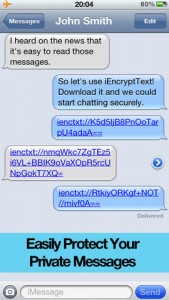 iEncryptText is an iPhone app developed by Idan Sheetrit. Perfect for sending confidential emails or messages to colleagues or friends, this handy app makes you feel like a secret agent. Currently on sale for free, the app normally costs 99 cents. However, it does have some drawbacks. We'll get to those in a minute.
What is it and what does it do
Main Functionality
iEncryptText lets you send secure SMS, email and other text messages with your iPhone, iPad, or iPod. Featuring "REAL military-grade encryption," iEncryptText helps users to feel more secure when sending sensitive information via text or email.
Pros
Easily send encrypted messages through other app
App is also optimized for SMS sending so there shouldn't be any extra cost for users who are charged a per-text fee
Your plain-text is never sent unencrypted to anyone (not to any server or other user) and the only way to decrypt it is by knowing the password.
Ultra-simple UI
Manual controls let you encrypt text and send it from outside the app
Prevent Google, your cellular company, or any sneaky roommates from seeing what you've been saying
Cons
Only free up to a point: users get 23 free "encryption credits" for sending their messages. When these run out, you can get more by inviting a friend to use the service via SMS, or by buying them. $4.99 gets you unlimited credits. 100 credits costs 99 cents, while 5000 credits will set you back $2.99.
You need to know and remember the correct passcode to decrypt messages: with multiple messages/conversations, that could be hard for some people
The app itself is not password/passcode protected
Discussion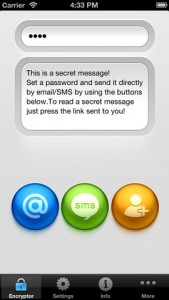 iEncryptText uses AES-256 encryption, a military-grade encryption composed of a 256 bit key. Studies have shown that AES encryptions are quite secure: the tactics it would take to break a 256 bit key are theoretically possible, but would be impractical in a real world setting.
Users can take comfort in the fact that their plain text is never sent unencrypted to anyone. The only way your text can be read is by someone who knows the password. When someone sends you a message through iEncryptText, you simply press the link, and there it is! (You must set the password beforehand, naturally.)
Unfortunately, this "free" app has some hidden costs. Namely, the matter of the "encryption credits." Users get 23 free "encryption credits" for sending their messages, but you need to keep buying credits to keep using the app (or invite a friend.) I do like that you can get unlimited credits for a fairly cheap price, however.
Conclusion and download link
iEncryptText is currently free, and comes with a good amount of credits to let you test out the service. If you want to keep your communications secret (or just feel like a secret agent during your day), this app is worth checking out!
Price: 99 cents (currently on sale for Free)

Version reviewed: 2.5 
Requires iPhone/iPad/iPod Touch, iOS version 4.3 or later
Download size: 4.7 MB
iEncryptText on Apple App Store
Related Posts