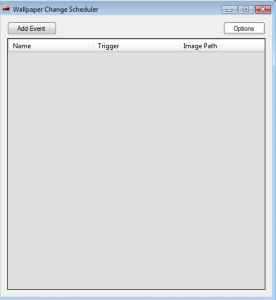 If you're like me, you like a fresh background every once in a while. Looking at the same one day in and day out gets kind of boring. That being said, if you're like me you are also too lazy to go in and change it daily. Well, now you never have to worry about it again thanks to Wallpaper Change Scheduler.
WHAT IS IT AND WHAT DOES IT DO
Main Functionality
Wallpaper Change Scheduler is a program for Windows that allows you to automatically change your desktop wallpaper to any image you want. There are several triggering events that you can set up that will cause the wallpaper to change. For example, you can set your wallpaper to change daily, weekly or monthly. You can even set your wallpaper to change with the movement of your mouse (that may be a bit extreme, but the option is there).
Pros
Automatically changes your wallpaper
Set up different triggers that cause your wallpaper to switch. For example, you can have your wallpaper switch daily, weekly, or even monthly
Extremely customizable
Cons
If switching your wallpaper is not something you care about, then the program has nothing to offer you
Layout is very bland and not as user-friendly as some people may want
Discussion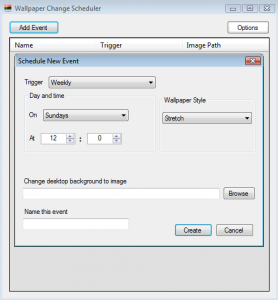 There are a lot of things to love about Wallpaper Change Scheduler, and a few things to hate. However, after using the program for a bit, I can honestly say that there are more things to like than not to like. So let's get right into using this program.
As the name suggests, you an use Wallpaper Change Scheduler as an easy way to change your wallpaper automatically. After you get the program set up, it will change your wallpaper for you. You can choose when it changes your wallpaper by setting up different triggers. For example, maybe you want your wallpaper to change every day. Well, Wallpaper Change Scheduler can do that. In fact, there are a ton of different triggers you can place, which makes this program very customizable.
That being said, I don't know if it is the bland layout or all of the options you have, but the program is not as user-friendly as some may want. The program is not very hard to figure out, but there are no big bright buttons that say "click here to set up changing wallpaper". You are actually going to have to go in and tell the program what you want and when you want your wallpaper to change. This is a simple task if you just want it to change everyday, but can be a bit more confusing if you want to set up other triggers.
CONCLUSION AND DOWNLOAD LINK
If you love to change your wallpaper but are simply to lazy to go in and change it yourself, Wallpaper Change Scheduler is perfect for you. The program can keep your desktop looking fresh day-to-day or however often you want it to look fresh. Although the goal it fulfills for you is nothing grand, it can be a time-saver for someone who changes their wallpaper continuously.
Price: Free
Version reviewed: 1.0.0.25
Supported OS: Windows XP / Vista / 7
Download size: 850KB
VirusTotal malware scan results: 0/45
Is it portable? No
Wallpaper Change Scheduler homepage
Related Posts