Photographs always make us feel nostalgic, no matter how old we are. So it's no surprise that many photo apps try and bring an analog feel into their design. One app that does this quite well is Photo Table, developed by Paul Solt. This app mimics the feel of sorting physical photographs into a collage while sitting at your kitchen table, thanks to the app's "virtual table" interface.
What is it and what does it do
Main Functionality
Photo Table takes photos from your Camera Roll, Facebook page, or Flickr account and arrange them on a virtual hardwood table. You can easily zoom, rotate, drag, tap, or flick away images until you have the best possible collection of photographs. In addition to organizing your photos, other Photo Table users are using the app to share their portfolios or designs with current or prospective clients.
Pros
Easy to navigate with a solid tutorial
Clean design
Ability to have favorite snapshots turned into postcards and shipped right from your phone
Great tool for making photo collages of important life events
Share your collages via Facebook, Twitter, and email
Quickly import photos from Facebook or Flickr
Easy to add music, creating an interactive photo slideshow
No limit on number of photos you can add to each table
Cons
A bit cramped on the iPhone
Some users will complain about the lack of customization options for the background
Discussion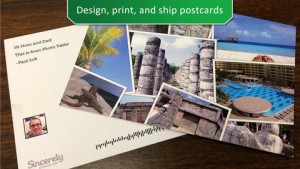 While the iPhone's screen is a little on the cramped side for assembling a photo collage, one thing that offsets this issue is the ability to have the pictures enlarge themselves and keep on a continuous loop as a slideshow.
I'm sure this would look better on the iPad, but I think the iPhone version has been thoughtfully designed to make maximum use of all available screen space. You can also create HD collages from your images.
I love that Photo Table takes the idea of analog photo organizing and sharing and runs all the way with it. In addition to sharing on social media, you can also share your photos by creating postcards! To print and ship postcards costs $1.99 for US addresses, and $2.99 to send to an international pal. I love how simple the process is, and I think a lot of vacationers will actually start sending postcards again because it is so simple to do with this app.
Overall, Photo Table is well-designed. Making new albums takes only seconds, and the result is a really charming collection of photos that will make you feel nostalgic, no matter how old the snapshots are.
Conclusion and download link
With great resources for sharing your photos, a simple design, and intuitive controls, it's hard to find fault with a free app that's this good. Even if you have an older phone with a smaller screen, this photo app is way more fun to use than Apple's native Camera app.
Price: Free 
Version reviewed: 1.2
Requires iPhone/iPad/iPod Touch, iOS version 6.0 or later
Download size: 23.8 MB
Photo Table on Apple App Store
Related Posts