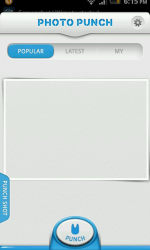 I use my phone to take a lot of photos. In fact, the great camera on my phone was one of its biggest selling points. That being said, sometimes I like to add a little "punch" to my photos. OK, that was a bad pun, but you get the point. Photo Punch is a small picture editor that you can use on the go!
WHAT IS IT AND WHAT DOES IT DO
Main Functionality
Photo Punch 1.5  is a program that you can use to edit your pictures easily on the go. It allows you to cut out exactly what you want from one picture and paste it into another. Now you can make stunning or hilarious photos in just seconds.
Pros
Update has fixed many of the programs bugs that were present in previous versions
Easily cut or punch out a section of a photo that you want by drawing a circle around the part you want
Punched photos save automatically to your library so they will be easier to find later
The program also allows you to use custom backgrounds, filters, borders, stickers and more
Add text bubbles to your pictures
Share your pictures instantly to sites like Facebook and Twitter
Check out popular Photo Punch pictures by visiting the Photo Punch community right from your phone
Cons
After the most recent update, despite fixing many of the bugs, some phones have been receiving the "cannot connect to server" error. Fixes to this are on a case-by-case state.
Discussion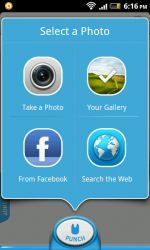 Using Photo Punch is about as easy as humanly possible. That is one thing that I love about the program. When I am on the go, I don't want to have to struggle with editing photos on my phone. I need it to be fast and simple, and that is just what Photo Punch does.
So let's talk about how to use this program. Pretty much, the program allows you to edit photos by clipping or punching out certain areas of a photo. The easy-to-use interface allows you to draw a circle around the area that you want to punch. Now you can put that picture you just punched on a different background. These backgrounds can either be from pictures you already have on your phone or a background that comes with the program itself.
Of course, that is not all you can do with this program. It also allows you to add filters, stickers, borders and text bubbles to pictures. Most of these are just for fun, but they can really help to make a photo look a bit livelier.
After you are done making your masterpiece, you can easily share it with your friends on sites like Facebook and Twitter. There is even a Photo Punch community that you can share your photos with and leave comments on other people's pictures.
The biggest problem with the program may not be experienced by everyone. After the most recent update, a lot of people have been getting a "cannot connect to server" error. Fixing this problem can be a real pain. Although I did not get such an error, reading online forums suggests that the problem can be caused by many different factors, and fixing it takes a lot of time. So much time, in fact, that it may not even be worth using the program in the first place. Although this is a pretty big bug, many of the programs previous bugs have been removed.
CONCLUSION AND DOWNLOAD LINK
I suggest that you download the program and find out if you get an error. If you don't, then enjoy your free program because this is one fun program. If you do get an error, I am not sure if it will be worth trying to fix it. Maybe you can find a simple workaround to make it work on your phone. Either way, I hate when they update programs and the outcome is worse than it was before.
Price: Free
Version reviewed: 1.5
Requires: Android 2.2 and up
Download size: 11MB
Related Posts