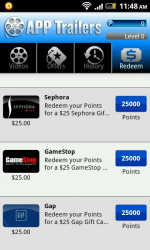 Do you download a lot of apps on your phone? Do you wish there was a way to get a better preview of an app before downloading it? What if I said there was and, not only that, but they would give you rewards for watching these app previews! Well, that is just what App Trailers does.
WHAT IS IT AND WHAT DOES IT DO
Main Functionality
App Trailers is a free app for your phone that offers you quick ways to watch previews of popular apps in the Android Market. This way you can see a great preview of an app before ever installing it. Not only that, but the program actually rewards you for watching these previews. The points you earn for watching previews can be redeemed for gift cards, money in your PayPal account and more!
Pros
Gives you previews of apps before you download them (usually in the form of a video)
Earn points for watching these previews, regardless if you install the app or not
Redeem your points for gift cards, money in your PayPal account and more
Cons
Have to log in though Facebook to redeem prizes (no other option available)
Program cannot log in to Facebook Pages, so you must have an actual Facebook Account to use this program
Not all apps are listed on this device, so you can't get previews for all apps in the Google Play Store
Discussion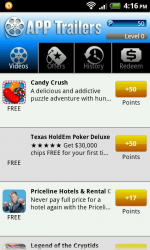 I like downloading new apps to my phone. With so many developers out there, it is interesting to see what kind of games and apps they will come up with next. That being said, sometimes the previews they give you of these apps are no help. They may give you a few screenshots and a written description (videos are pretty rare). That is where App Trailer comes in. As the name suggests, this program gives you a preview of an app before you download it.
Of course, most people do not use this app for the "free preview". No, they use it because it rewards them for watching the previews. Every time you watch a preview for an app, they give you points. These points can be redeemed for gift cards, money, etc. Don't expect to watch two previews and walk away with a $25 gift card. Usually you get 50 points for watching an app, but you can get extra points if you end up downloading the app.
So, for example, let's say you wanted to get the reward that gives you $0.15 cents in your PayPal account. This reward costs 150 points. Basically, you would be getting paid $0.15 to watch three app previews on your phone. Of course, you can save up your points and get things like a $25 gift card to places such as GameStop, Amazon, Ebay, etc. These usually cost around 25,000 points. There are other, less expensive gifts available as well.
The only problem I had with the app was the fact that you have to log in to your Facebook account to redeem your points. This should not be a problem for people who have a Facebook account, but if you are one of the few that don't (like me), then you are simply out of luck.
Also, it is worth pointing out that not all apps are listed on this program. So there are still going to be some apps that you simply cannot get previews for. This sucks, as I actually enjoyed watching the previews before downloading an app.
CONCLUSION AND DOWNLOAD LINK
Overall, I feel this is a pretty solid app. It is nice to get rewarded for things you might be doing already (surfing for apps to put on your phone). Yes, you would have to watch a lot of app previews to get a $25 gift card, but it is cool that it is even an option. This is an app that I would more than likely use without the reward system. Just make sure you have a Facebook, or this app does you no good.
Price: Free
Version reviewed: 2.4
Requires: Android 2.2 of higher
Download size: 7.2MB
Related Posts