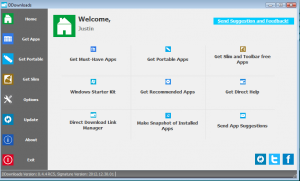 Downloading things off the internet never feels completely safe. This goes double when you download from sites like CNET that make a great deal of money off sneaking in spyware and adware to their installers. Well, now there is a way around it with DDownloads.
WHAT IS IT AND WHAT DOES IT DO
Main Functionality
DDownloads is a very helpful program that allows you to download your favorite programs safely. Instead of getting your downloads from places like CNET, DDownloads will help you find the developer's website so you can download from there. If there is no developer page, which is sometimes the case, the program will find another safe portal for you to download from. In short, it helps you avoid fake or malicious webpages.
Note: Just because DDownloads claims to always download from a "safe" website, that does not mean you should trust it blindly. Always have an active anti-malware program protecting you, and always scan downloads from DDownloads. Even if the intention of the developer of DDownloads is really to provide safe-only downloads, it isn't hard to see how they may make a mistake and that mistake may cost you if you blindly assume every download from DDownloads is safe. In short, trust but verify. Always.
Pros
Easily search for the programs you want to download right from DDownloads' program window
Avoid fake and malicious sites by allowing this program to find safe portals for you to download from
Only links to pages that offer the most current version of a program to download
Provides community and blog links about the programs you are downloading
Program is completely portable
Extremely lightweight, so it is easy on your computer's resources
Cons
DDownloads is pretty limited in scope
Categories are not very well organized
Discussion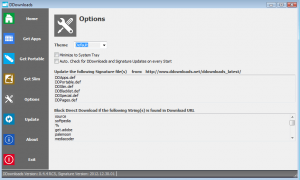 I always try to download from a developer's site when downloading a new program for Windows. However, sometimes this can be difficult to do. This goes double if it is a pretty new app. That is where DDownloads come into place. This is a program that will help you find safe portals to download your favorite programs. Now you no longer have to worry about downloading from a fake or malicious site again.
There are actually a number of things to like about this program. For example, it is completely portable. Once you download this program, it is ready to go without any installation. It is also very lightweight, which is what you would expect from a portable program.
Using the program is easy. Just simply start it up, and begin looking through the categories on the left-hand side. You can also manually search for a program if you know the name of it. The biggest problem I have with the categories is the fact that the program does not do a very good job of organizing this information. Many of these categories seem to overlap in function. Not only that, but many programs don't show up in the categories you would expect.
Another drawback to the program is the fact that it is pretty limited in scope. As far as protecting you from downloading from a malicious site, it does just fine. However, this program has nothing else to offer. Don't expect it to act as an application manager, because it won't. In short, using this program is typically only helpful when you already know what it is you want to download.
CONCLUSION AND DOWNLOAD LINK
Overall, the drawbacks are not enough for me not to recommend this program. By finding safe portals to download from, it can help keep adware off your computer. Just remember, it is best to know what program you want to download before using DDownloads. After all, the categories they have programs listed in are not very accurate.
Price: Free
Version reviewed: 0.4.4
Supported OS: Windows XP / Vista / 7
Download size: 363KB
VirusTotal malware scan results: 0/46
Is it portable? Yes
Related Posts