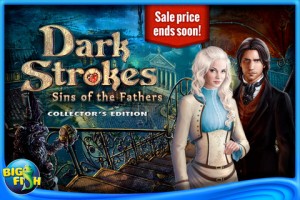 Looking for a new game that's as fresh as 2013? Good news: Dark Strokes: Sins of the Fathers Collector's Edition, developed by Big Fish Games, Inc., is a brand new hidden object game you might wanna check out. This new title may be just the lazy game you'll want to play while you nurse your head after too much New Year's Eve merriment.
What is it and what does it do
Main Functionality
Dark Strokes: Sins of the Fathers Collector's Edition. It's a game.
Pros
Engaging story with good voice acting and great characters
Nice graphics that immerse you in the age of steam
Two levels of difficulty: Casual and Expert
Excellent music that helps to set the atmosphere and mood of the storyline
Cons
Pretty big download for a game in this genre: if you play a lot of games, you might need to clear out some space to make room for this title.
Some menus are confusing: for example, you might not realize right away that you need to scrolls sideways (not up and down) to see the list of items you're supposed to be tracking down.
What makes this app "Collector's Edition" are bonus features like character bios, concept art, a strategy guide, and more…but some players will probably just ignore these superfluous features (If you get the app while it's still free, you get these features automatically.)
Discussion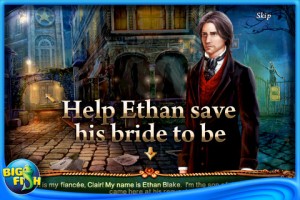 Going into this review, I wasn't a huge fan of how Big Fish Games tackles the hidden object game genre. I'd played their previous effort, a Lite version of Nick Chase, and found it too simple. I'd also found the game to be a bit unstable, crashing on me. Worse still: after crashing, my progress wasn't saved!
However, Dark Strokes seems to be a definite step up for Big Fish Games. The puzzles are way tougher, but not so tough that they get annoying. You play as Ethan, a young man summoned (along with his lovely lady Clair) to meet with his father under mysterious circumstances.
After boarding a train (where you are observed by a sinister, hooded figure wearing a mask,) you are separated from your bride-to-be after a strange event occurs. You'll need to solve a supernatural mystery in order to reunite with her, and explore the ruins of a destroyed city to understand the whole mystery behind the city of Cedar Falls.
I know some people can't stand the "hidden object" genre of games, and I see why. Many times, they are simply too easy, while other times they are so difficult that they are just frustrating. Dark Strokes finds a good balance between the two, especially since you can zoom in on each screen. And like many other games in this genre, the story that ties each hidden object hunt together is really engrossing.
Conclusion and download link
Dark Shadows: Sins of the Father's is a rare gem in the hidden object genre: it's action-packed. Between explosions, near-drownings, and mysterious disturbances, this is a must-play for anyone who likes hidden object games.
Price: Free thru January 1st
Version reviewed: 1.0.0
Requires iPhone/iPad/iPod Touch, iOS version 4.0 or later
Download size: 1.14 GB
Dark Strokes: Sins of the Fathers Collector's Edition on Apple App Store
Related Posts