There are tons of programs out there that claim to download videos straight from the internet. Although some of them work, there are a lot of them that are not worth your time. Today we are going to be looking at FSS Video Downloader. This is a program that promises to be easy to use and allow you to download videos from popular websites.
WHAT IS IT AND WHAT DOES IT DO
Main Functionality
FSS Video Downloader is a simple-to-use program that allows its users to download videos from popular sites like YouTube, Facebook, Google Video, etc. Not only can you download from these sites, but you can save your video in a variety of formats.
Pros
Download videos from many popular sites
Save videos in different formats like HD MP4, HQ MP4, and FLV
Interface is very easy to use, making it perfect for people just starting out
Open source
Cons
Can only download from supported sites — is not a 'download from any video streaming website' downloader
Would have been nice to have more options when converting videos to different formats
Discussion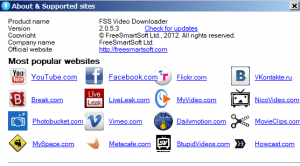 FSS Video Downloader is not the worst program I have ever used, but it is not the best either. It is hard for me not to recommend the program, as it does download videos without fail. However, it is hard for me to give it a shining review because of a number of setbacks.
First, the program can only download from select sites. For example, the following sites are all supported: break.com, dailymotion.com, facebook.com, video.google.com, howcast.com, hulu.com, liveleak.com, metacafe.com, movieclips.com, mtv.com, myvideo.de, nicovideo.jp, photobucket.com, rtl.de, rutube.ru, stupidvideos.com, veoh.com, vevo.com, video.mail.ru, video.yandex.ru, vimeo.com, vkontakte.ru, youtube.com. As you can see, these are very popular sites and includes the likes of Hulu, Youtube, Dailymotion, Google Video, and Metacafe. There are a number of other sites also supported, but many of those sites turned out to be adult sites… so we are not going to list them here.
Another problem is that you can only really convert the videos you download into two formats: MP4 and FLV. Now, there are different qualities of MP4 you can convert to, but in the end, it is still just these two formats. Once again, this is nice because these are two popular formats, but it still limits you. You will need a separate video converter if you want videos in other formats.
That said, the program is very easy to use. Simply copy the URL of the page you want to download your movie from, and copy it right into the program. Choose your output folder, and then click download. The program will take care of the downloading and converting without you having to do a thing. Not only that, but most of the time the downloads seem to complete pretty quickly.
CONCLUSION AND DOWNLOAD LINK
In short, I wish FSS Video Downloader would have given you the ability to download from any site you want to. I also wish they should have given you access to more video formats in terms of converting. However, if you're looking for an easy-to-use video downloader and you like the sites we listed above, this program may be perfect for you.
Price: Free
Version reviewed: 2.0.5.3
Supported OS: Windows 2000 / XP / 2003 / Vista / 2008 / 7 / 8
Download size: 6.9MB
VirusTotal malware scan results: 0/45
Is it portable? N0
Related Posts