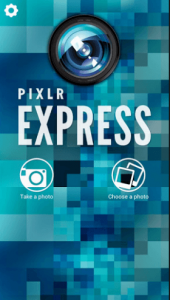 I have said it before, and I will say it again. I love to use my phone for taking pictures. Most smartphones nowadays take just as good of pictures as some digital cameras. Of course, just because the smartphone camera has gotten better, doesn't mean that my ability to take a decent picture has. That is why I am always looking for a good photo editor for my phone. Today we are going to look at Pixlr Express and see if it is worth your time.
WHAT IS IT AND WHAT DOES IT DO
Main Functionality
Pixlr Express is a free photo editor that allows you to edit your pictures on the go. It offers such features as crop, re-size, remove red eye and even to whiten teeth! There are over 600 effects, borders and overlays to choose from as well. The program claims to make your photos look professional…even if you are not.
Pros
Edit pictures right from your phone
Take a picture with the program or choose from any picture already on your phone
"Auto Fix" option will adjust pictures for you
Remove red-eye and whiten teeth
Over 600 borders, overlays and effects to add to your photos
Adjust contrast, brightness or focus to your liking
Favorite button allows you to keep track of all of your favorite effects and overlays
Share you photos directly to sites like Facebook and Twitter
Cons
Auto Fix does not always work as well as one would hope
Almost too many choices to choose from. Can seem a bit overwhelming at times
Discussion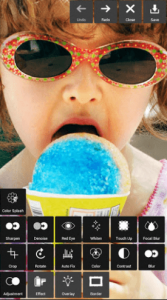 Pixlr Express is a much better photo editor than what I expected. Usually when you get a photo editor for a phone, you can do stuff like add pretty borders and effects to the pictures. You can do that with Pixlr Express, but you can also do so much more.
First, let's cover the borders and effects. As with most phone editors, you can add just about any border and effect you want to a photo. In fact, there are over 600 to choose from. There is even a "favorite" button so you can like the borders and effects you use the most. This is good because no one wants to scroll through 600 different choices every time they go to edit a picture.
However, the great thing about this program is you can do more than add "stars" and "glitter" to your pictures. They allow you to remove red eye, whiten teeth and even adjust colors and contrast to your liking. For those of you who don't like to edit pictures yourself, they even have an auto correct button for you. This usually works decent, but sometimes it throws the color way out of sync.
When you are done with your masterpiece, you are able to quickly share your photos with all of your favorite social media websites, like Facebook and Twitter. In this day and age, I expect just about every photo editor to come with this feature…not because I use it, but just because so many of them do offer this, the one that didn't would feel lacking.
The biggest problem I had with this program (besides the auto correct sometimes not working right), was the fact that there were almost too many options. There are so many ways that you can adjust your pictures, it almost seems "too much" for a phone. Usually if I am using an editor on my phone, it is because I am on the go. I may not have time to flip through 600 different boarders and effects. Nor should I have to take time out of my day to go through and "favorite" the ones that I like in order to find them quicker next time.
CONCLUSION AND DOWNLOAD LINK
I really do like this program. However, it does suffer a bit from that old saying, "too much of a good thing is bad". That being said, I do think this is one of the better picture editing apps out there. For the people who are willing to mess around with this program for a bit, you will find that there is a lot you can do with it.
Price: Free
Version reviewed: 1.0.1
Requires: Android 2.2 and up
Download size: 5.6MB
Related Posts