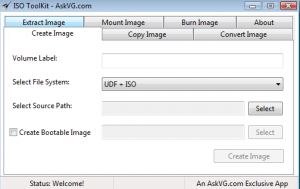 If there is one thing that people love to use their computers for, it is to manipulate ISO images. However, finding a good ISO manipulator that is free can be very challenging. That goes double for one that does more than just burn ISO images to discs. That is where ISO Toolkit comes in.
WHAT IS IT AND WHAT DOES IT DO
Main Functionality
ISO Toolkit is a free ISO tool that you can use to manipulate ISO images. This includes creating, copying, converting and even extracting information from said images. Best of all, the program is completely portable.
Pros
Able to create bootable ISO images
Can convert files between poplar image formats like ISO, NRG, CUE and BIN
Can extract files/data from ISO, NRG, BIN and CUE images
Can mount ISO, NRG, BIN and CUE images
Can burn ISO image files in Windows Explorer
Able to create a clone ISO image of a CD or DVD
Cons
Some knowledge of ISO files will be needed in order to use this program to its full potential
Discussion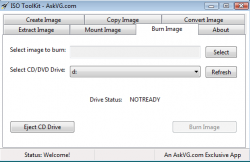 I just started using ISO Toolkit recently, and already I am a big fan. The program is easy to use, assuming you know what you're doing, and it's able to do a lot for free. In fact, the fact that it is free is probably my favorite feature. It is a great alternative to all of the shareware programs out there that would have you pay money for all of these features.
Before we jump into all of the features, we should point out that the program is also completely portable. There is no installation required, which is actually pretty rare for good ISO manipulator programs.
That being said, what does it do? Well, there is not much that this program does not do in terms of ISO images. It is able to copy, convert, extract and burn them. One of the most useful features may be its ability to convert these images. As many of you know, certain programs will only work with certain files. Converting your images can sometimes be difficult. However, I was able to successfully convert my images with this program. On top of that, I was very impressed with the little time that it took to convert.
Also, I was happy to see that this program was able to extract information right from an image file. This is something that many of my other ISO manipulator programs were not able to do. I had one in the past that claimed to do it, but it failed most of the time. This was, by far, the first really good extractor I have used.
Although there are not really any cons, I would like to point out that this program is best used by people who fully understand ISO image files. If these are files that you don't mess around with a lot or you don't even know what the heck an ISO is, you might as well pass on this one because it is not going to do you a bit of good. Not so much a con as really a warning.
CONCLUSION AND DOWNLOAD LINK
There really isn't much more to say about ISO Toolkit besides the fact that it is extremely good. The program is best used by people who already fully understand ISO images and have used similar programs in the past. I feel that if you have used other ISO manipulators, you will be able to fully understand the benefits of this program.
Price: Free
Version reviewed: 5.0
Supported OS: Windows XP / Vista / 7
Download size: 2.03MB
VirusTotal malware scan results: 2/45
Is it portable? Yes
Related Posts