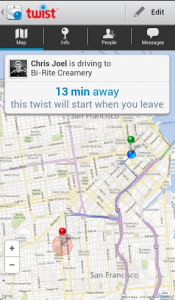 Alright, so have you ever been on your wait to meet some family or friends and you continuously get text messages and phone calls asking: "Where you at?" Well, Twist is looking to put an end to this. This app will give all of your friends a complete run down of where you are, and about how long it will take you to reach their destination.
WHAT IS IT AND WHAT DOES IT DO
Main Functionality
Twist is a new app for Android that gives your friends, colleagues, and family members a detailed listing of where you are and when you will arrive at your destination. It will even let them know if you are running late. Spare yourself the onslaught of messages and phone calls from people wanting to know when you're going to be there.
Pros
Lets your friends and family members know where you are
Calculate your estimated arrival time
Works whether you're driving, walking or taking some kind of public transportation
Share your estimated time of arrival with only the people you choose
Friends can see you on a map to see just how far away you are
Minimizes battery drain by utilizing proprietary GPS and cell tower data algorithms
Cons
Only available in the US, CA, UK and AU
Have to have Android Ice Cream Sandwich or higher
Discussion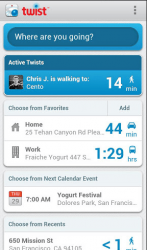 Don't know if you have ever suffered this problem or not, but I know I have. Say you are meeting up with some friends for a night out and you happen to be a little late. That is when the phone calls and text messages start: "Where you at?", "How much longer?", "Did you leave yet?" Alright, maybe it's just my friends, but either way, Twist was sounding pretty good to me.
Twist is a program that lets your friends know where you are, how much longer until you arrive, and if you are driving, walking, etc. This way they can just check the app instead of continuously bugging you. Of course…if your friends are like mine…it won't stop them. In fact, they will more than likely call and check to make sure the app is correct…I can't win.
That being said, the app works great. It will estimate your time of arrival. All you have to do is tell the app when you are leaving, where you're heading to, and it will do the rest. On the other side of things, your friends can see where you are, what means of travel you are taking, and what your estimated arrival time is.
One thing that had me worried about this app was the fact that it uses GPS. As you already know, GPS is a big battery drain. The last thing that I need is for my phone to be dead when I reach my destination because this app was sucking up so much juice. The good news is that the app is able to minimize battery drain by utilizing proprietary GPS and cell tower data algorithms.
Thus, the only complaint I have about this program is the fact that it is not available to many people yet. First of all, it is only available to people in the US, UK, CA, and AU. If you live anywhere else in the world, the app won't work for you. On top of that, you have to have Android 4.0 or higher. There are a lot of people who have not upgraded yet, and that means this app is unavailable to them as well.
CONCLUSION AND DOWNLOAD LINK
Twist is a great program and it works well. It delivers a lot of information to the people you choose. Not only that, it is not very demanding on your battery. That being said, the app is limited to the amount of people who can use it because of its region settings and the fact that you need Android 4.0 or higher.
Price: Free
Version reviewed: 2.5MB
Requires: Android 4.0 and higher
Download size: 2.5MB
Related Posts