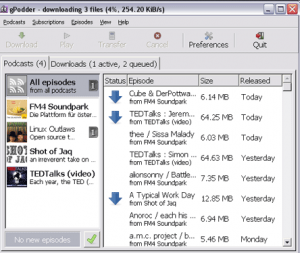 Do you listen to a lot of free audio and video content, like podcasts? If so, would you like the ability to easily download them to your computer or mobile device? Then gPodder is the program for you. It allows you to easily download free audio and video content from a number of popular sites.
WHAT IS IT AND WHAT DOES IT DO
Main Functionality
gPodder is a program that helps you download and manage free audio and video content like podcasts. From there you can choose to listen to this media on your computer or move it over to your mobile device. The program supports downloading from Atom, RSS, Soundcloud, XSPF and even YouTube.
Pros
Program is small, yet full of features
interface is simple to learn and pretty cluster free overall
Can sort through your Podcasts and organize them neatly
Gives you the ability to limit the number of downloads or the speed that things download (so it doesn't eat up all of your bandwidth)
Option allows you to remove old podcasts you might have laying around your computer and taking up disk space
Automatically fetches new podcasts for you without you having to do it manually.
Can get files over BitTorrent if your podcast uses that as a means of distribution
Helps you easily move podcasts to your mobile device simply by selecting the device you are using and where its internal memory is located
Will even send podcasts to your phone via Bluetooth
Cons
Written in Python and has a GTK interface (both of which need to be downloaded on your computer for this program to work)
Needs an integrated podcast directory
Useless to people who are not subscribed to more than one podcast
Discussion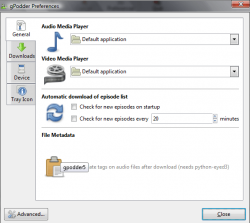 gPodder is a great program that is easy to use. However, the program is not for everyone. For example, do you know what a podcast is? If not, you might as well skip the rest of the review, because the program is not for you. If you do know what it is, do you subscribe to more than one podcast? If not, once again, this review is not for you. Everyone else that is still left, gPodder may be your new best friend.
Once you download gPodder and add your podcasts, which is something that you can do via adding the feed addresses manually, you should see the titles and icons of your podcasts on the left-hand side of the program. From here, you can manually choose which shows you want to download. The downloads will go to wherever you tell gPodder to save your downloads to.
The best thing about the program is how small it is. However, just because it is small and quick does not mean that it does not have a lot to offer. In fact, it has a lot of functions. It is a true gift for people who find themselves subscribed to more podcasts than what they can possibly keep up with.
Really, gPodder is a way for you to manage all of your podcasts so you can focus more on enjoying your content than trying to manage it. Although it is lacking in a few areas, overall the program is pretty enjoyable to use. Just remember, the more podcasts you are subscribed to, the more useful this program will become.
CONCLUSION AND DOWNLOAD LINK
Are you subscribed to more than two podcasts? If so, I recommend this program to you. If you are not, or you don't even know what a podcast is, don't waste your time with this one. In terms of managing and downloading podcasts, it does a great job.
Price: Free
Version reviewed: 3.4.0
Supported OS: Windows XP / Vista / 7
Download size: 809KB
VirusTotal malware scan results: 0/39
Is it portable? No
Related Posts