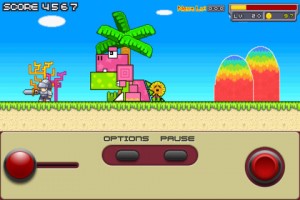 Most of us use our iPhones for two things: staying in touch with other people, and killing time while we wait for those people to show up and meet with us. A person can only play so many rounds of Angry Birds, so I try and keep a rotating list of time wasting games on my iPhone at all times for when I need to kill 10 minutes before a meeting. If you're in need of a similar time wasting game, check out Tiny ARPG, an iPhone game developed by Sotodo Technology Co.
What is it and what does it do
Main Functionality
Tiny ARPG is a simple game where you play as 16-bit knight who must slay and unending swarm of monsters both big and small. Using just a directional control and a jump button, you run across the screen and skewer your enemies with your broadsword.
Pros
Decent array of weapons upgrades to keep enemies at bay
Free to play title with great retro graphics
Energetic soundtrack helps keep players on their toes and stay focused on the game
Huge variety of monsters and bosses to battle against
The game ends when you die: trying to last longer than in previous sessions is really fun
Cons
Banner ad is placed right next to the jump button, which is pretty annoying
Game doesn't self-orient: turn your phone upside down, and the game will stay upside down
The game screen freezes momentarily each time you level up, which breaks the flow you've built up
Ads can't be removed via any type of in-app purchase
Options menu won't come up if the game is already paused
Discussion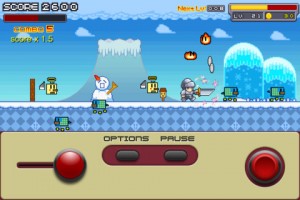 The way I see it, your enjoyment of Tiny ARPG will depend on what you like most about playing RPGs in the first place. If you're really into grinding, then the constant fighting and killing will be fun for you. If you go into Tiny ARPG expecting an RPG-style story, however, you will be sorely disappointed. And if you don't like RPGs in the first place, you might enjoy this title as a time waster while you're waiting for the bus or putting off homework.
Your enjoyment of Tiny ARPG will also be affected by your ability to keep your button-tapping finger or thumb from wandering during gameplay. The banner ad practically overlaps with the jump button, and you're bound to hit it accidentally during gameplay at least once. In a game where losing your rhythm can mean the end of your game (and having to start over from the beginning), this is probably a deal-breaker for most people.
I like that you can compete for the highest score on Game Center, and I love the simplicity of the controls. Just left, right, and jump: this title is retro both in terms of looks and in terms of control simplicity.
Conclusion and download link
RPG fan or not, Tiny ARPG is a free way to waste some time before a meeting or while riding the subway. It's a cute fun title that can get pretty addictive…as long as you can handle the truly awkward, unfortunate placement of that banner ad.
Price: Free
Version reviewed: 1.0.1
Requires iPhone/iPad/iPod Touch, iOS version 4.1 or later
Download size: 4.3 MB
Related Posts