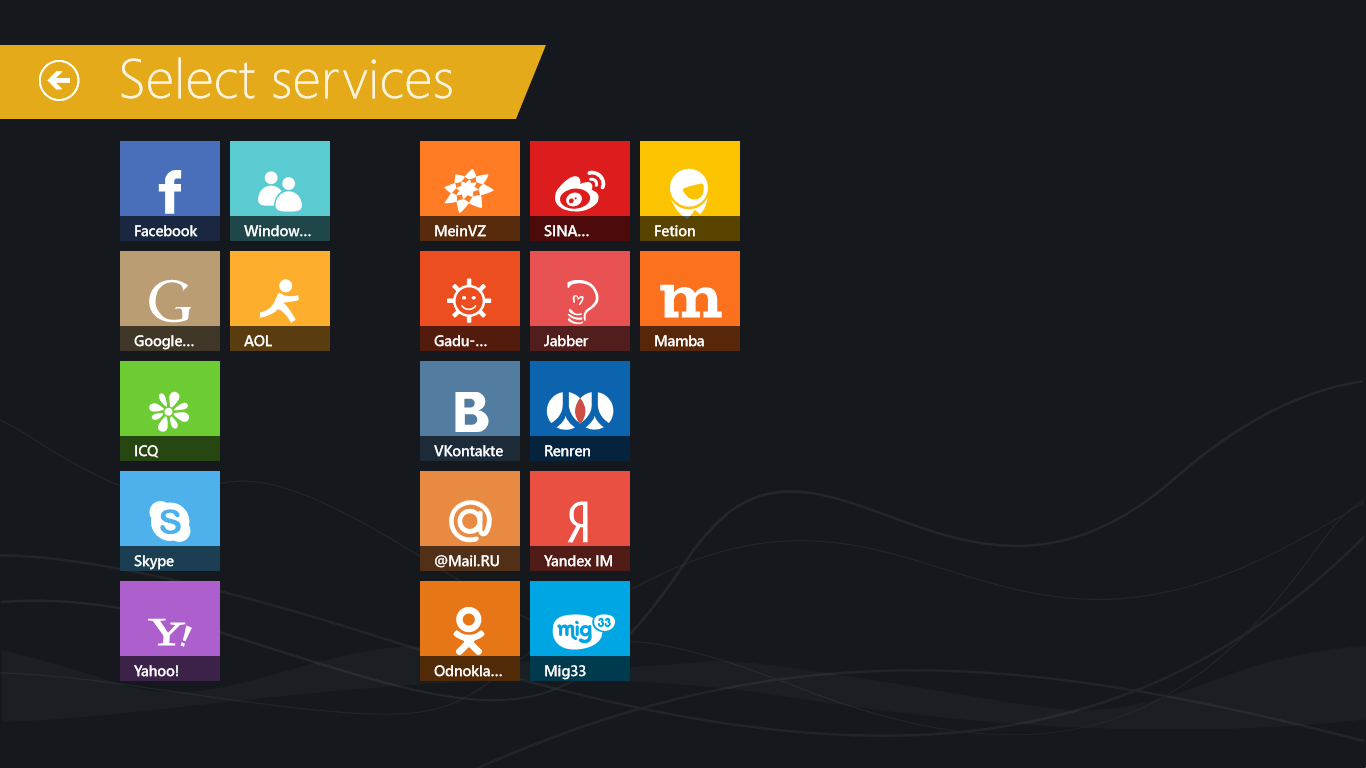 IM+ is a popular chatting application and its iteration on Windows 8 is wonderful. One of the main important aspects all new OS's including Windows 8 has been the social media integration. There is a default app for chatting of course. But IM+ provides a feature rich replacement to the default chat app. This app does what it promises to do.
What is it and what does it do
Main Functionality             
IM+ is a chat client for Windows 8, supporting major IM services including Windows Live Messenger, Facebook, Skype Chat, Google Talk, AIM/AOL, etc.
Pros
All popular instant messaging services in one app
Feature rich like multimedia messaging, typing notifications, customizability, etc
Highlights hub
Easy contact management
Easy sharing
Cons
No voice/video support for any of the services
Notifications needs some improvement
UI need improvement
No group chatting feature
Discussion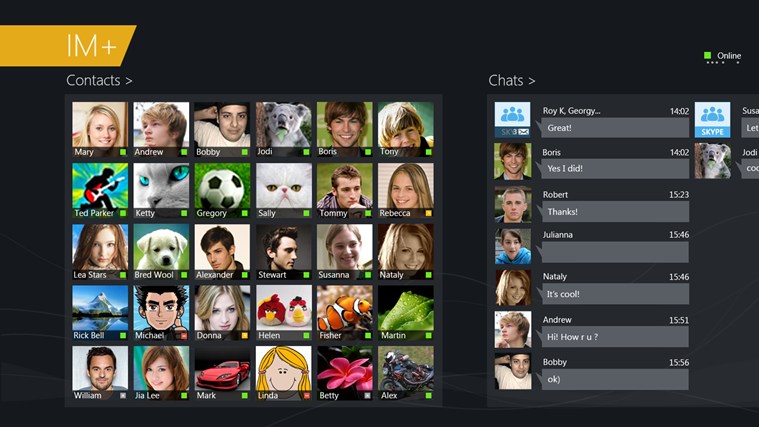 IM+ is a great app. I have been using IM+ on many platforms for long. And now with the launch of the Windows 8 version, I was happy to see the app. The app does have its lows, and is not perfect. But it is a definitely worth a download.
To begin with it supports all popular instant messaging services, right from Gtalk, Y Messenger, and Skype (and more) to not so known one like Gadu-Gadu. This makes it an awesome app. As of now, the default app doesn't provide support to these many services. On top of that we are still waiting for an official GTalk app. Till we get more options, IM+ is the way to go forward.
And IM+ is a feature rich chat client. You have multimedia sharing, and you can snap photos right from the webcam. You also have typing notifications and customizability with options to change colors of many different menus and backgrounds.
You also pretty nifty feature called highlights hub. As the name suggests, it pretty much highlights everything that is required to be like contacts online, messages received, etc. I felt it was very useful. The contact management is neat, and suffices the needs. Also, you can easily share files using IM+ in chats and also you can search using the charms bar.
But for cons, to begin with there is no voice or video support. There might be future updates which will include all this but as of now there is no voice or video support for any of the networks supported. Though this might be a random case only with me, the notifications had many problems. The push notifications didn't work at times. There maybe some bugs which they have to iron out.
Though they have advertised the group chatting feature, it was starkly missing from the app.
Conclusion and download link
To conclude this app is pretty decent, and it definitely is the need of the hour. With many heavy weights of the game still developing apps for Windows 8, IM+ has the benefit of being the first to enter the fray. Though there some bugs that need to be ironed out, if you are a chatting junkie you should definitely give this app a try.
Price: Free
Supported OS: Windows 8, Windows RT
Supported architectures: x86, x64, ARM
Related Posts