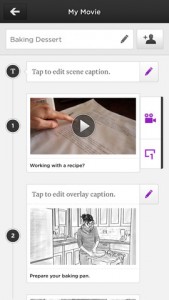 I'm calling it right now: if Spielberg ever shoots a movie on his iPhone, he'll probably use Directr to do it. The reason is simple: Directr takes away all of the hassle of editing short video clips because it uses a storyboard format to encourage you to shoot scenes in order. If you've ever wanted to shoot a short film in chronological order like Spielberg did with "E.T." and "Saving Private Ryan," this is the app to experiment with.
What is it and what does it do
Main Functionality
Directr lets users make movies without the hassle of editing, because you shoot scenes in order. You can shoot whatever you like, or use one of the app's built in "storyboard" settings to structure your movie down to the very second. Users can then share videos over social media or via email.
Pros
Share movies via Facebook, text, email, or Twitter
You can easily see both overall movie length, as well as how many shots/scenes comprise the length of the project
Now supports email login: no need to link to your Facebook account
Storyboard templates include set-ups for all kinds of videos, from cooking demos to baby videos to parties
Simple to overlay captions over each section in your movie
Cons
Loading home/explore screen takes kind of a long time
Some creatives may feel limited by the pre-designed storyboard structures, and also limited by the 1-3-5 shot limit in the blank storyboard mode
Design is less conducive to long-form filmmaking and video capture
Discussion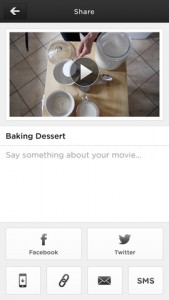 If you want to experiment with point and shoot moviemaking, there isn't an app out there that can best Directr when it comes to ease of use.
Tap the purple "+" sign to start a new project. Keeping your movies organized is simple: your movies are categorized as either completed or in-progress. There are tons of different storyboards you can use as a jumping-off point. You can build memories with videos about your kids, record a video that you can use to sell your car, or engage in all kinds of meme-related tomfoolery like dog shaming, FML, or funny cat vids.
Though this app is pretty new, there have already been a number of updates, including bug fixes. There has clearly been a lot of work put into this app: there were no stability issues whatsoever during my play time with this app.
I also liked how easy it was to browse the videos that had recently been uploaded by other users. They run the gamut from baby videos to funny cat videos to fart videos. It's a cool way to find funny videos, or to get inspiration for your own work.
Conclusion and download link
If you have ever wanted to start a cooking blog, become a viral video sensation, or make short films, Directr is far and away the easiest app I've ever encountered for making movies. Forget editing: from now on, making movies is as simple as taking a picture. Give it a spin, and you'll see how intuitive and simple this video app can be.
Price: Free
Version reviewed: 1.3
Requires iPhone/iPad/iPod Touch, iOS version 5.0 or later
Download size: 11.8 MB
Related Posts