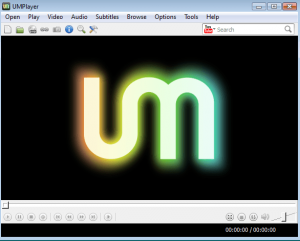 Have you ever been trying to play a video on…say…Windows Media Player and it comes back with the "this codec not supported" or something along those lines? Well, don't worry. Many of us have. This is why people are always looking for different video and audio players that naturally support more formats. UMPlayer offers this and a lot more, and that is why it is not just another "video/audio player".
NOTE: Be sure to also check out dotTech's Best Free Video Player for Windows article.
WHAT IS IT AND WHAT DOES IT DO
Main Functionality
UMPlayer lists itself as a multimedia player. However, it is so much more than that. Yes, it does offer support for over 270 different audio and video formats, but it can also support CDs, DVDs, TV and radio, SHOUTcast, YouTube, and more. Heck, the program even comes with its own built-in subtitle search.
Take note UMPlayer is available on Windows, Mac OS X, and Linux. However, the portable version is on Windows only.
Pros
Completely portable
Play over 270 different audio and video formats including: AAC, AC3, ASF, AVI, DIVX, FLV, H.263, Matroska, MOV, MP3, MP4, MPEG, OGG, QT, RealMedia, VOB, Vorbis, WAV, WMA, WMV, and XVID
Offers a YouTube search option so you can search and watch YouTube videos without ever bring up your browser
Can record YouTube videos
Offers CD and DVD playback
Allows you to stream radio stations, including SHOUTcast Radio streams
Attempts to play corrupt or incomplete media files
Supports the ability to play HTTP, FTP, MMS, UTP, RTP, and UDP streams
Offers a subtitle search option
Other options include customizable hotkeys, changeable skins and the ability to sync subtitles
…And more
Cons
Not always able to play corrupted files (which isn't necessarily the program's fault — some files are just too corrupt to play)
Experienced some problems with YouTube playback
Discussion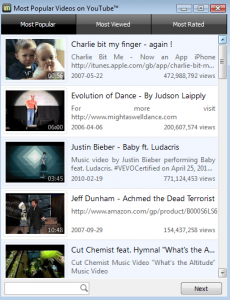 I ended up really liking UMPlayer. This was based on many different things, but one thing really stood out to me. That was the player's ability to "attempt" to play corrupted files. I will go a little more into detail about this later on.
At first look, UMPlayer comes across looking like your everyday, run-of-the-mill player. Nothing special right? It plays video and audio (pretty standard), and the interface looks easy to use. However, after you start using UMPlayer, you quickly notice that it does a lot more than just play popular video formats.
According to the website, the player has over 270 built-in codec codes. In short, this means that it supports over 270 different types of media. For those of you who don't know what a video codec is, let me give you the "Cliff Note" version. In short, a video codec is a piece of software that enables both compression and decompression of a digital video. So if a video has been compressed in a certain way, it stands to reason that you need the same codec to decompress it. That is why some videos won't play on your Windows Media Player.
The player also offers some other neat features. For example, it comes with a built-in YoutTube player. This allows you to search and watch YouTube videos without having to bring up your browser. This worked…most of the time. I did experience a few problems with videos refusing to load, which was a bit of a letdown. The program does so much right that it was a shame to see it mess up something as simple as YouTube playback.
The program can also be used as a device to stream radio stations. This does include SHOUTcast Radio. If you have ever had problems streaming a radio station to another player, you will want to try it out on UMPlayer. It's quick and easy, the way streaming internet radio should be.
I also enjoyed the built-in subtitle search engine. I was able to find subtitles for every movie I searched for (of course, I only tried popular movies, so I can't say that it works for less common ones). The subtitles I did find were easily synced to my movies with the program's built-in subtitle sync ability.
Now for my favorite part, the corrupted data playback. I have this video which, at one point, worked but now it doesn't. For the longest time, I assumed I was missing the right codec, as that was what Windows Media Player kept telling me. Well after trying to play it on UMPlayer, I was informed that it was corrupted and was asked if I still wanted to try and play it anyway. I clicked yes, and the movie worked (for the most part). The point of the matter was not that it was able to play this file (although that was neat). The point was it finally just let me know, "hey…this is corrupt". A simple feature, if you can call it that, but it really helped me out.
CONCLUSION AND DOWNLOAD LINK
UMPlayer may not be the best media player out there, but it is a pretty good one. It goes above and beyond the call of duty as far as most media players are concerned. Since it is free, it is at least worth checking out if you are in the market for a viable audio or video player.
Price: Free
Version reviewed: 0.98
Supported OS: Windows XP/Vista/7, Mac OS X 10.5 or 10.6, Linux

Download size: 14.82MB (Windows version)

VirusTotal malware scan results: 0/45
Is it portable? Yes (Windows version only)

Related Posts