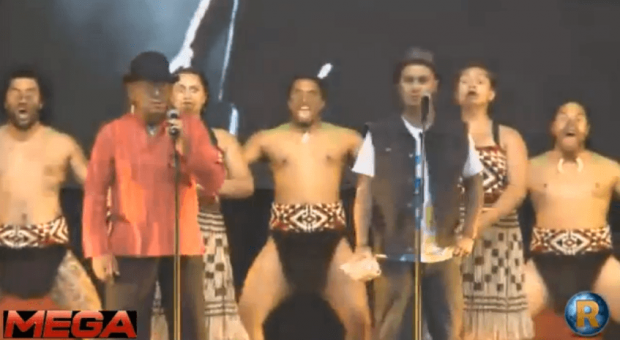 Leave it up to Kim Dotcom to not be content with simply launching a new file-sharing service, but to have an actual launch event to go with it that is probably crazier than he is.
The whole event can be viewed on Youtube…
…and it's up there in terms of strangeness with Qualcomm's 'Born Mobile' event at CES. The event was littered with tribal dances, techno music, backflips and apparently helicopters. Why helicopters? Kim Dotcom thought it would be cool and impactful to reenact his arrest from last year — hence, the helicopters were necessary.
"Our copyrights and access were taken from us without a trial or notice," said Dotcom during his speech. "Those who try to stifle technology and innovation will be left on the side of the road in innovation and history. We will protect the rights of everyone – today is the anniversary of something horrible, but now it is also the anniversary of something wonderful."
Besides the lofty inspirational speeches, he also revealed some facts in a Q&A session. First he announced that Mega has already hit 1 million users, an admirable feat considering the site had just launched 2 days ago and many users were hit with problems logging into the site. He also revealed that Megabox and other associated sites would be launching in around 6 months, because he is a "perfectionist."
This, however, was probably the most interesting question and answer exchange of the event. Something we might have to come back to one day.
Q: "How will you stop Megaupload happening again?"

A: "We have scrutinized every pixel to ensure it's built from the ground up to adhere to the law."
Will those ideals of freedom and privacy eventually clash with the law? Only time will tell.
[via Gizmodo, The Next Web]
Related Posts