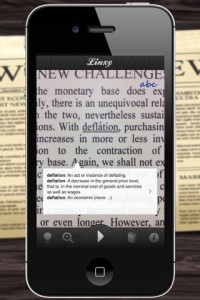 A book that I tend to re-read every year just because I like it so much is "The Diamond Age" by Neal Stephenson. It's steampunk meets cyberpunk, East meets West, and very very cool. At the center of the story is a little girl named Nellodee, who comes into possession of a highly advanced "lady's primer." It's basically a storybook that also acts as a learning device. Whenever Nell reaches a word or concept in the story that she doesn't understand, she can ask the book to define it for her, instantly.
When the book first came out, Wikipedia was still a sci-fi pipe dream. The next big step towards having a "primer" of your own is an iPhone app called Linxy. Similar to the primer, Linxy provides definitions and information to readers when they encounter an unfamiliar turn of phrase.
What is it and what does it do
Main Functionality
Linxy works by turning your camera into a real-time dictionary. Point your camera at a word, and once the camera comes into focus, a line will appear under the word and a definition will pop up.
Pros
400,000 word definitions
Works offline
App supports manual lookup of words, as well as camera-based lookup
No need to actually take a picture: just point your camera at the text
Cons
Linxy sees words where there aren't any. Here's an example: it read the wrinkles in a bedspread as words!
Currently only supports English text. If you point it at a Spanish word like "semana," it doesn't give you a literal meaning, but explains about the history of a magazine called "Semana" instead
Free version includes displaying only one definition for a word. You can upgrade to full version with an in-app purchase from within the app for just $1.99.
Currently only compatible with iPhone 4, iPhone 4S, iPhone 5, and iPod touch (5th generation).
Dictionary is somewhat limited when it comes to science and medical vocab, especially because the app sometimes breaks long words into their constituent parts
Because it works offline, the download size is a little on the large side
Discussion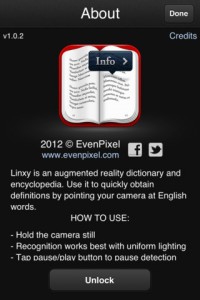 Text content in Linxy is based on Wikipedia and Wiktionary and is distributed under CREATIVE COMMONS ATTRIBUTION-SHARE ALIKE LICENSE. That means that much of the definitions look very similar to Wikipedia articles and definitions. That's good if you want something understandable, but less good if you've already looked up a word's meaning on Wikipedia and need further clarification.
Overall, the app functions quite well. I do wish the lexicon was a bit bigger, and I also wish the app would consistently recognize long words as a single word.
One thing that is entertaining (but also problematic) is the fact that Linxy sometimes sees words where there is no text. I aimed the camera at my bedspread, for example, and it read the rumpled surface as everything from "Montreal" to "Cibi" to "interstate." Still, for a free app, this is a good investment.
Conclusion and download link
While Linxy is far from perfect, it's a solid start to an app that's only going to get better with future updates. Just point your camera at an unfamiliar word, abbreviation, or even a symbol, and you will be on your way to better understanding!
Price: Free 
Version reviewed: 1.0.2
Requires iPhone 4, iPhone 4S, iPhone 5, or iPod touch (5th generation), iOS version 4.3 or later
Download size: 53.4 MB
Related Posts