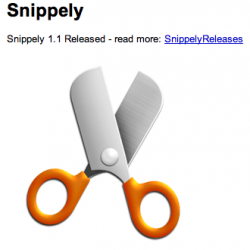 When I want to aggregate all of my stray bits of HTML or notes to myself, I generally just toss everything into my MacBook's Stickies application. I'll be the first to admit it: this slapdash solution is kind of a mess. That's why I was really intrigued when a tech blog turned me on to Snippely, an Adobe AIR application designed to organize all of the stray bits of code or notes to yourself in a single, easy-to-navigate application.
What is it and what does it do
Main Functionality
Snippely is an Adobe AIR application that organizes both text and code language in a single, central location. In Snippely, each "snippet" is composed of a title, description, and one or more 'snips'. These snippets are stored in groups for organization and quick retrieval, and can easily be sorted.
Pros
Extremely small download size
Clean, minimal interface
Software is shared under an MIT license (no limitation on the rights to use, copy, modify, merge, publish, distribute, sublicense, and/or sell copies of the software)
Snippely site includes a wiki, as well as a really comprehensive list of issues and how to troubleshoot them
Since everything is saved to a local database as you work, there's no need to worry about pressing the save button or submitting a form.
Simple to anonymously check out the latest project source code
Downloads feature a source control management system, ensuring that what you download is exactly what you meant to download
Cons
Hasn't been updated in ages
Developed and tested primarily on Mac OS X machines: great for Mac owners, potentially problematic for users who switch machines and operating systems throughout the day
Discussion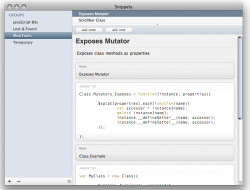 According to the developers, Snippely has been developed and tested mostly on OS X. However, since AIR is inherently cross platform, it works "perfectly" on Windows as well (according to them.)
I really love how easy it is to sort and organize all your various snippets, and the site has a really comprehensive list of troubleshooting techniques. If you have any issues related to exporting/importing info, syntax highlighting, or working with the source code, there are plenty of support threads you can review.
Admittedly, it's been a while since Snippely got a good update. However, the program still works really well, and it is simple to navigate. Snippley is a very simple bit of software, and it is that same simplicity that makes it so darn appealing.
Conclusion and download link
If you're tired of chasing down notes or snippets of code in various locations all over your hard drive, Snippely is a good way to get organized and stay organized. It's free, and it is very convenient.
Price: Free
Version reviewed: 1.1
Requires: Mac OS X and Adobe AIR

Download size: 232 KB
Related Posts