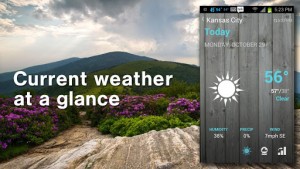 1Weather is perhaps the most highly rated weather app on the Google Play Store as it provides a beautiful interface along side a plethora of features. This app is perfect for those who rely on their phones for weather information. This app is specifically suited for those who hate Android's typical weather offerings and are looking for an elegant app with highly advanced features.
What is it and what does it do
Main Functionality
This app's main function is to simply provide you with all of the weather information you need for your daily life. It aims to give you all of this while providing you with a gorgeous interface to make the overall experience more enjoyable. The interface meshes perfectly with the apps functionality so you aren't overwhelmed with information.
Pros
Real time forecast up to 48 hours in advance
7-day extended forecast
GPS support
Radar, precipitation, cloud cover, air quality, UV
Sun and lunar information
Share data through social services
Supports widgets
Customizable
Cons
Drains battery
Cannot choose weather provider
"Extreme weather warnings and radar available for U.S. and Canada only"
Discussion
The Android ecosystem is absolutely flooded with weather apps. It is without a doubt one of the most popular types of apps undoubtedly due to the fact that there are so many aspects that can be customized. One overwhelming theme that seems to be the case is that a typical weather app either has a lot of accessible information, or has a clean and attractive interface. Very rarely does a weather app sport both of these features without compromising. While this app isn't perfect, it is without a doubt the highest rated weather app as it provides the best, all-around whether experience for Android.
You can safely assume that this app will provide you with all of the basic weather information that even the most simplest of apps provide. However, it also provides information that you normally only get in the "business only" type of apps. For example, this app will display a fully functional, live, and moving radar based on whichever location you want. Additionally, it provides information such as precipitation percentages, cloud cover, information, UV charts, and even information about the sun and lunar phases.
The app will provide all of this information in real time and give you specific information up to 48 hours in advance. Additionally, the app will give you with more general information up to 7 days in advance with a comprehensive extended forecast. With the obvious inclusion of GPS support, the app will give you up-to-date information no matter where you are in the world. If you so desire, you can share weather data with your friends and family through social services such as Twitter or SMS. The icing on the cake stems from the fact that you can customize the look of the app with several different backgrounds.
While this app is highly regarded, there are a couple aspects that are holding it back, as minor as they seem. For starters, the app tends to drain your battery when you have it running in the background. This is unfortunate because there are couple advantages to leaving it running such as notifications and severe weather alerts. Additionally, you cannot choose the weather provider. This is importent because some providers are better at gathering information for specific locations more than other providers.
Conclusion and download link
Generally speaking, this app is truly the most inclusive weather app for Android. There isn't much to hate about it while there is a ton to love about it. The developer has done an excellent job of providing the user with both elegance and functionality. This is something that is not commonly seen in Android apps. This app is raising the bar when it comes to weather apps and demands a certain level of professionalism.
Price: Free
Version reviewed: 2.0
Requires: Android 2.2 or higher
Download size: 5mb
Related Posts