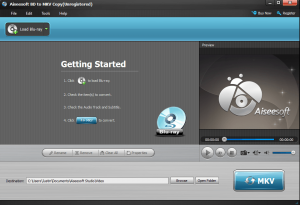 You have Blu-rays but you want to store them on your computer. Aiseesoft BD to MKV Copy can do that for you. Now the question is: Does it do its job well enough that it deserves your hard-earned cash? Let's find out!
WHAT IS IT AND WHAT DOES IT DO
Main Functionality
Aiseesoft BD to MKV Copy is a program that helps people rip their Bly-ray collection. It does this by allowing you to save your Blu-ray movies as MKV files with no loss on quality. It supports 2D and 3D Blu-rays plus works with Blu-ray discs and Blu-ray folders.
Pros
Backup/rip your Blu-ray movies to MKV
Supports Blu-ray discs and Blu-ray folders
Output quality is 1:1 with little to no loss on quality; keeps 1080HD video stream and audio/subtitle tracks (like Dobly TrueHD, etc.)
Allows you to remove unwanted audio tracks if you wish
Supports both 2D and 3D movies
Cons
Does not provide any information on if it will bypass DRM protection or not. It looks like it probably does not bypass DRM protection.
Only rips Blu-ray to MKV format; doesn't support any other format such as MP4, MPEG, AVI, etc.
Won't rip to ISO
Is not for people that want to reburn ripped Blu-rays; it won't let you to rip Blu-ray to 'Blu-ray folder' meaning you cannot do lossless reburning of movies to Blu-ray discs
Ripping process was on the slow side
Does not support NVIDIA and AMD GPU acceleration
Discussion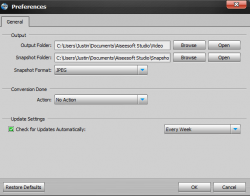 If you are looking to back up your Blu-ray collection, there are lots of different options out there for you. Some are free and others are not. Aiseesoft BD to MKV Copy is one of the ones that is not free, but it promises that it is worth your money. So let's find out if this is true.
First of all, the conversion aspect (the most important part) works fairly well. It is a bit on the slow side, but it is attempting to convert a whole Blu-ray movie (it takes longer for 3D movies). However, what you get is nothing short of fantastic. I noticed no drop in quality and the sound was spot on. Of course, if you have a huge Blu-ray collection, this process is going to be very time consuming.
As far as sound goes, as I mentioned above, it was really good. This is because the program actually keeps the audio and subtitle tracks. So if the Blu-ray features Dobly TureHD, that is what you get in your MKV.
Now, if you want to convert to something other than MKV, you are simply out of luck. This program does one thing and one thing only, and that is convert Blu-rays to MKV. This is not really too big of a problem, as the quality is great. However, there are some devices out there that won't play MKV format. This program is not going to help you back up your Blu-ray devices. You could always reconvert with another program, but the more times you convert something, the more you lose, so keep that in mind.
It does offer a very helpful preview before you start converting. This way you can make sure that you are converting the right movie, playback is fine, etc. This is a feature that most converters offer nowadays, but it would have been a shame to see them leave this out. So I am glad that they at least followed suit and kept the preview window.
CONCLUSION AND DOWNLOAD LINK
To conclude, I found Aiseesoft BD to MKV Copy to be so-so. It is not bad but it is nothing special either, especially considering it can only do Blu-ray to MKV and doesn't appear to have the ability to bypass DRM protection. Sure you can use video converters to convert the ripped Blu-ray from MKV to another format, but if I am going to pay $29.95 for a program that rips Blu-rays, I want it to be able to natively do more than just MKV. Most notably, I want it to be able to rip to Blu-ray folder so I can do lossless reburns to Blu-ray discs if I ever want to. I'd skip out on this one if I were you and instead grab DVDFab HD Decryptor.
DVDFab HD Decryptor is a freeware DVD, Blu-ray, and HD-DVD ripper. It doesn't convert ripped movies to other video formats but you can easily use any freeware video converter to do it. So, when you use DVDFab HD Decryptor in combination with a free video converter, you can not only convert DVDs, Blu-rays, and HD-DVDs to any video format you want, but you also have the ability to do lossless reburns to discs since DVDFab HD Decryptor burns to folders and keeps the videos in their original DVD/Blu-ray/HD-DVD formats. Plus DVDFab HD Decryptor can bypass DRM protection.
Price: $29.25
Version reviewed: 6.1.6
Supported OS: Windows XP / Vista / 7 / 8
Download size: 23.8MB
VirusTotal malware scan results: 0/43
Is it portable? No
Aiseesoft BD to MKV Copy homepage
Related Posts