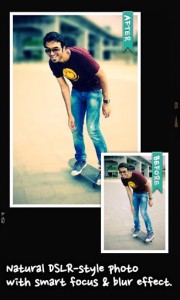 AfterFocus is an app designed to alter your photos and make them look like they were taken with a more expensive camera. This app is great for photographers who have difficulty carrying their camera around everywhere. This app is also great for people who simply want to make their favorite photos looks more professional.
What is it and what does it do
Main Functionality
This app, in essence, is simply designed to make your photos look more professional. Whether or not these enhancements line up with the developer's claims will vary depending on how experienced the photographer is and how often the photographer comes in contact with true, professional quality photos.
Pros
High resolution images up to 2048 pixels
Edge-feathering
Filters
Double photo support
Cons
Doesn't support some images
Claims may be misleading
You need the paid Pro version to get high resolution images
Discussion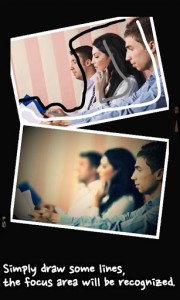 This app will essentially alter the current focus of your photos to make them appear as though they were taken with a camera similar to a DSLR. Supporting images of up 2048 pixels, this app will allow you to select an area of the photo you want to focus on, and make the background a little blurred to highlight that section. This effect is achieved by a technique called edge-feathering, that evenly blurs the lines between your background section and your main-focus section.
You are also given access to additional filters and effects. These effects include Cross Processing and Bokeh effects, commonly used among professional photographers. Additionally, the app features a cool function where you take two pictures right after each other. Doing this will make the app automatically recognize which object you are trying to highlight. This will bypass the need to highlight the focus area of the photo, making the effects much more accurate and easier to reach a final product.
The developer claims that this app will produce DSLR-like photos. This is somewhat misleading because there is no app on the planet that will transform a picture taken with a smartphone into a picture taken with a camera worth thousands of dollars. The claim stems from the focusing effect that is applied. The focusing effect will give the appearance that is was taken with an expensive camera in terms of blurriness and focus, but it will certainly not withstand an authentic quality test. Your photos will not have any extra sharpness or detail added to them, instead, the backgrounds will simply be blurred in order to make the main focus of the photo pop out more.
On top of that, I was unable to use any of my existing photos during my field tests. Every time I selected an existing photo, I got an error saying the image was not supported, regardless of whether or not the photo was taken on my device. The only way I was able to get into the actual editing interface was by taking a new picture. It seems as though my experience was an isolated incident as there isn't any mention of similar occurrences on the Play Store reviews.
Conclusion and download link
Even though this app wasn't very functional in my tests, it really can produce some great looking photos if you know how to use the app. It will take some tinkering to find the settings and motions that work best, but it really does come pretty close to creating an illusion that the photo was taken on high-end equipment. As a result, this app can become a great tool to any photographer or photo enthusiast who is looking in increase the attractiveness of his or her photos.
Price: Free, $1.99 (Pro)
Version reviewed: 1.2.5
Requires: Android 2.0 and up
Download size: 7mb
Related Posts