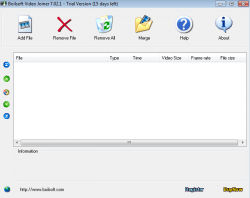 Have you ever wanted to merge all of your different video formats into one large file? Alright, maybe not all of them, but you get the point. Well now you can with Video Joiner from Boilsoft. This is a program that allows you to join multiple movie files together, regardless of their video format.
WHAT IS IT AND WHAT DOES IT DO
Main Functionality
Video Joiner is a lightweight program that allows you to join multiple video files together regardless of their format. The program works with the following video types: AVI, MPEG/MPG, VOB, RM/RMVB, 3GP, ASF, WMV, WMA, MP4, MKV, MTS, and FLV. All of this is done at lightning quick speeds.
Pros
Join multiple videos together regardless of their format
The output format for joined videos can be any output format supported by the program — does not have to be the same as input formats
Has the ability to join videos without re-encoding
Works with AVI, MPEG/MPG, VOB, RM/RMVB, 3GP, ASF, WMV, WMA, MP4, MKV, MTS, and FLV
Allows you to preview videos before joining
Gives ability to control output settings such as bitrate, aspect ratio, etc.
Works quickly
Easy to understand user interface and helpful 'Help' section
Cons
No batch processing — you cannot queue up multiple joins to happen one after another (i.e. you can only do one join at a time; for example, there is no ability to tell the program to join videos 1, 2, and 3 into one video and videos 4, 5, and 6 into a different video)
$29.95 is expensive for a video merger program
Discussion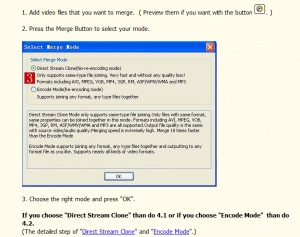 There is really not much to dislike about Video Joiner as a program. It does just what it tells you it will do. In short, the program is able to join together just about any video formats you have stored on your computer. So if you want to combine moves that are FLV, AVI and MPEG, no problem!
Figuring out how to use the program is about as easy as possible. The interface is very standard and easy to figure out. If you do happen to have problems, the program does come with a great step-by-step guide to help you get started. Although a guide is probably not needed to figure out this program, I have used other programs that offer no such help, and it is nice to see that this company took its time to answer any questions you may have.
Besides that, there is not much to say about the program. It does a fantastic job joining the movie files together. I noticed no problems there. I also liked how quickly it completed its job and that you can select the output file type for the joined videos. So in short, you can join together a MKV and a AVI and convert the large output video to a WMV if you want.
The only problem I had with the program is the fact that it does not feel like it is worth the price tag, mostly because I can achieve the same goal using other programs. For example, I have a free video converter and a free video joiner. Although my joiner does not put together different video types, I can convert them to the file type I want with my free converter and then just join them together afterward. Yes, this is an extra step, but it saves me $30.
CONCLUSION AND DOWNLOAD LINK
Overall, the program works great. I have no problem with how the program handles its task, and it looks to be a good choice for joining videos. I especially like its ability to join videos with re-encoding. If $30 is no issue with you, go ahead and give Video Joiner a go.
That said, video joining is nothing unique and there are freeware programs you can grab that will do job. Off the top of my head, I know Freemore Audio Video Suite's 'Video Joiner' module will join videos for you and it is completely free. I'm sure there are many more.
Price: $29.95
Version reviewed: 7.0.1.2
Supported OS: Windows 98/ME/2000/XP/2003/ Windows Vista/ Windows 7
Download size: 10.3MB
VirusTotal malware scan results: 0/46
Is it portable? No
Related Posts