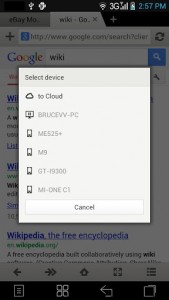 Maxthon Web Browser is a browser that unifies your browsing data across all of the potential platforms you could use throughout your day. This app is perfect for those who use multiple devices that span multiple operating systems. It is especially useful for people who use mobile devices in addition to desktops and notebooks to achieve the majority of their web browsing.
What is it and what does it do
Main Functionality
This app is simply designed to make web browsing on multiple devices significantly easier. The main attraction of this browser is definetly its ability to sync data across Maxthon on all your devices and computers (Android devices, iPhone, iPad, iPod Touch, Windows, Mac, and BlackBerry). In addition, it is designed to optimize web pages for speed and overall efficiency.
Pros
HTML 5 support
Tabbed browsing
Sync tabs and favorites with other devices and computers that run Maxthon
Share files and content, such as text, images, and websites, with other devices and computers that run Maxthon
Incognito and reader modes
Text reflow/word-wrap mode that automatically wraps content to fit your screen when you zoom in
Social and gesture functions
WWW/WAP switching
Add-ons
Cons
Handles pop-ups incorrectly
Cannot play videos
Requires a (free) Maxthon account to take advantage of the sync/share features
Discussion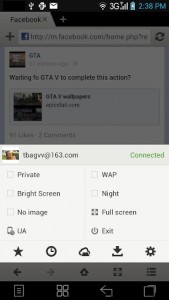 There is certainly not a shortage of browsers available for Android. Most of them feature the same functions wrapped in slightly different packages. Very few are capable of providing a unified experience across all of your potential devices. Maxthon aims to provide an experience similar to Chrome by supporting most popular operating systems including both desktop and mobile O's. Whether or not you choose to have this app replace Chrome will be a matter of personal preference as they support relatively similar functions.
Maxthon starts off running by supporting HTML 5 out of the gate. Unfortunately, the browser cannot run flash videos, or any type of videos, naively in the browser. The browser syncs nearly anything you can achieve on one device to any other device that also has the browser installed. This means tabs and favorites will remain constant as you switch between devices and operating systems. The syncing remains when dealing with files as it gives you the ability to push websites, images, and other files to all of your devices, allowing you to keep a constant and steady workflow.
The browser also takes exclusive features from other browsers to provide a seamless experience. These features include incognito and reader modes, allowing you to anonymously browse the web in addition to being able to view articles and other webpages in a more natural environment. The browser supports a variety of gestures, a feature that is underrated and unique to some browsers. You will be able share any web page or file through all of the popular channels, like text and email, all within the browser.
The browser also offers the unique ability of being able to switch between WWW and WAP versions of webpages. It's a shame that most browsers don't support this as it can make viewing certain web sites much easier and more natural. The one downside of how his browser handles web pages is when it comes to popups. When you click on a link that is a popup, the original page is closed, making it incredibly inconvenient to return to where you were previously. There is also a variety of add-ons that add features and functionality that are not included with the stock browser, allowing you to personalize your browsing experience.
Conclusion and download link
This app is without a doubt one of the most inclusive and complete web browsers out there. It certainly rivals, and in some cases trumps Chrome in terms of features. However, some people will be hesitant to switch due to the convenience factor that Chrome has running for it. That being said, the fact that this browser can be installed on a variety of operating systems certainly puts it ahead of the other alternative browsers available for Android. If you already use Maxthon on your other devices and computers, then it is a no brainier — grab Maxthon for Android. If you don't yet use Maxthon on your other devices, this may be a good time to give it a try — syncing your web browsing across devices and computers is, simply put, amazing.
Price: Free
Version reviewed: 4.0.3.1000
Requires: Android 2.2 and up
Download size: 5mb
Maxthon Web Browser on Play Store
Related Posts