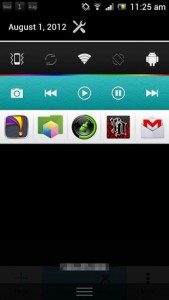 1Tap QuickBar is an app that will allow you to accomplish nearly any basic task your phone can perform easily and with a single tap. This app is great for those who hate fumbling through menus to accomplish simple tasks that shouldn't take up a significant amount of time. It is also great for those who want to group similar tasks together in order to organize their actions more efficiently.
What is it and what does it do
Main Functionality
This app is simply designed to create a central place to accomplish simple tasks. This is useful in that you don't have to waste time on tasks that can be slightly less important than other things you may have to do. It also aims to provide this convenience in addition to giving you an attractive interface so you are more apt to use the app instead of menus which can be potential eye-sores.
Pros
Perform up to 60 common tasks
Produces customizable quick bar
Unobtrusively remains in notification bar
Customizable widget
Cons
App doesn't specify options in settings
Battery intensive
Discussion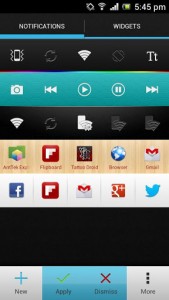 1Tap QuickBar is an app that is specifically designed to achieve simple and common tasks with only a click or two. It focuses on smaller tasks because those are the ones that are performed most often. The app works by adding an additional, non-obtrusive space in your notification area. This space can then be customized however you want in order to make it look as clean as possible. Choices for customization include changing the  background, icon set, text color, and status icon. You then fill the space with up to 6 actions that you perform most often. The actions you choose should perhaps be the most popular ones that take sorting through a menu or two to accomplish.
The amount of actions you can achieve with this app is more than generous and should satisfy any realistic wishes. There are 60 different toggles that span over 5 different categories. The first category is settings. This includes toggles for Wifi, Bluetooth, and other similar actions. The next category is applications. This will simply launch any application you desire. After that comes shortcuts. This is perhaps the most useful as it will make it easy to launch an action that is supplied by another app such as media control and new events. Next come the contact category which will allow you to to make a call or send an sms or email to any contact. The last category, the miscellaneous category, will vary depending on which apps you have installed as they are called "hidden actions" that are different with every app.
While this app boasts enormous potential for productivity, there are a couple aspects that may turn some people away. The first is very minor and may not even be an issue for some people. When in the settings section of the app, sometimes icons are used to describe actions without any accompanying text. This can make it difficult to determine what action it will actually trigger until you test it out. Additionally, this app will be very intense on your battery due to the fact that it is running in the background all of the time. This may be the number one aspect that will turn people away because battery life is very precious on a smartphone and this app technically doesn't give you any functionality that didn't exist before, just added convenience.
Conclusion and download link
Generally speaking, this app greatly increases your overall speed when accomplishing simple tasks that can be somewhat tedious. It performs very well and accomplishes its goal nicely. It will be up to the user to decide if the convenience factor is worth the noticeable decrease in battery stamina. Nevertheless, it is an interesting concept for an app and adds an iOS-like notification bar to Android, something that is certainly a step up from the current system. There are currently free, beginner, premium, and ultimate versions. Each level is upgradable within the app. The free version will supply you with one bar. the beginner version with 2 bars, the premium with 5 bars, and the ultimate with unlimited bars.
Price: Free, $1.21 (Beginner), $2.43 (Premium), $3.04 (Ultimate)
Version reviewed: 1.2
Requires: Android 2.0.1 and up
Download size: 1mb
Related Posts