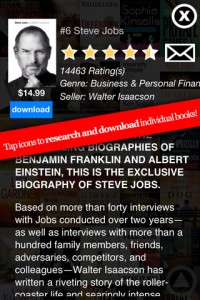 My boyfriend's mom is an English teacher. My boyfriend's sister works at Barnes and Noble. They are both great sources for book recommendations, but my voracious appetite for books is so massive, that I require more recommendations than they can provide me with. One of the problems with loving books is that you are always keenly aware of one thing: no matter how many books you read in a year, there are always a few really, really good books that are flying under your radar. In an attempt to get more book recommendations and stay on top of what's popular in new books, I downloaded Book Wall for my iPhone. The app was developed by Merge Mobile.
What is it and what does it do
Main Functionality
Book Wall presents a massive array of popular books for you to review in an attractive mosaic format. Users can quickly view the top 300 ranked books in various categories, and filter them by price and user rating. Download books from within the app, and they are added automatically to your iBooks app.
Take note that Book Wall itself is a free app but the books it finds may not necessarily be free.
Pros
Tired of the Mosaic view? You can switch to a List View to quickly browse top books.
Mosaic view mimics a bookstore feel
Share book recommendations with friends through email
Book Wall reflects your personal tastes: set your minimum rating and price, and books that fall outside of those parameters are not displayed
Cons
App doesn't warn you when you are about to try and download a title that is only available for the iPad
Book icons are cramped: this app is better suited to the iPad in some respects
Only works in portrait orientation
Book icons don't load uniformly
You can rate books, but you can't save titles into a wishlist
Discussion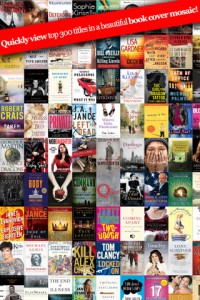 Maybe my expectations were too high for this app. I'd heard nothing but good things about Book Wall. However, after playing around with it, I'm a bit underwhelmed. To be fair, this is just the initial release of the app. I'm sure that future updates will include a wishlist function and other perks.
I wish it was possible to block recommendations by author: there are tons of popular authors out there that I want to block from the mosaic view, just because I don't like their style, or the genre they write in.
It's also frustrating that you can't refine your browsing results by language: there were tons of books that came up as popular, but that I couldn't read because of the language barrier. Why aren't the non-English books grouped by language so they are easier to find (and easier to filter out?)
The sales rankings appear to be based on in-app sales. I'd really appreciate a reference for top-selling books as ranked by the New York Times or a similar, authoritative source. I also wish the app would list when a book you are looking at is only available on the iPad.
Conclusion and download link
Book Wall has potential, but it has a long way to go before it is an indispensable app for voracious readers. It's free, so give it a spin, but I think you'll agree: this app hasn't yet hit its stride.
Price: Free
Version reviewed: 1.0
Requires iPhone/iPod touch/iPad, iOS 4.0 or later
Download size: 2.5 MB
Related Posts