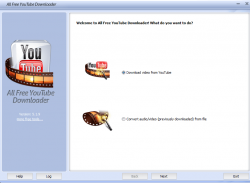 There is something refreshing about simple programs. It is great to have programs that try and do "everything", but every now and again I just want a program that is designed to do one thing. Take All Free YouTube Downloader, for example. It is designed to do one thing, and that is download videos from YouTube. Let's see how it does.
WHAT IS IT AND WHAT DOES IT DO
Main Functionality
All Free YouTube Downloader is designed to do is download videos right from YouTube. All you need to do is copy the URL, place it in the program and it will download it. Apparently it is supposed to support batch downloading as well. I say "supposed to", because I could not get the program to work.
Pros
Wizard that walks you through the steps
Allows you to convert videos and audio files you already have downloaded
Set up different parameter settings
Cons
Comes bundled with crapware during installation (click 'Decline' and/or uncheck boxes to avoid installing the crapware)
Was unable to get the program to successfully download any YouTube videos
Discussion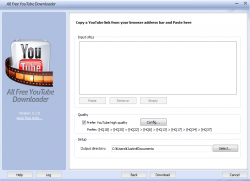 I wish I could have listed more pros, but there is not much good to say about this program. It has one simple task, and it doesn't even do that right. Perhaps I tried to download the wrong videos. However, when I downloaded the program it did not say that it works on "some videos"; it says it works on all YouTube videos. I am here to tell you that's a flat out lie.
It says it works on "all" YouTube videos. I think what they meant to say was the program doesn't work at "all". I attempted to download the videos in multiple ways just to make sure I was doing it right. I tried downloading one video at a time. I even tried to download multiple videos. Nothing worked. At the end, it always told me that the download failed to be successful. This was very annoying and made the program a big waste of my time.
Now, I am not saying that the program won't work for you. I mean, I have seen good reviews of the program out there, so I assume it worked for others. However, I can only report on what I experienced, and what I experienced…wasn't good. I would be interested to hear if any of the dotTech readers get the program to work on all YouTube videos like it suggests.
CONCLUSION AND DOWNLOAD LINK
The best thing the program has going for it is the fact that it's free. However, just because something is free, doesn't mean you should take it. If you want to give the program a go, be my guest. However, I would go into it expecting it not to work. That way, if it works, you will be pleasantly surprised (talk about managing expectations…). For everyone else, just avoid this program, because there are better downloaders out there.
Price: Free
Version reviewed: 4.9.5
Supported OS: Windows XP / Vista / 7
Download size: 6.4MB
VirusTotal malware scan results: 1/45
Is it portable? No
All Free YouTube Downloader homepage
Related Posts