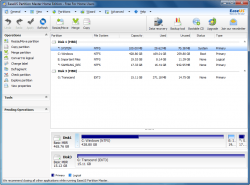 Need to install another operating system on your computer? Want a separate partition to hold your important files? Whatever your specific needs for partition management may be, AOMEI Partition Assistant will get the job done.
WHAT IS IT AND WHAT DOES IT DO
Main Functionality
AOMEI Partition Assistant is a fully-featured partition and drive management program.
Take note AOMEI Partition Assistant comes in two versions, Home and Pro. Home is the free version (free for home and business use) that has most all the features of Pro except for a few. Pro is, obviously, the paid version. AOMEI Dynamic Disk Manager, on the other hand, does not have a usable free version — it is paid only.
Pros
Can do all the basics of partition management: create, delete, format, extend, shrink, resize, move, merge, and split partitions
In addition to the basics, has the ability to:

Allocate free space
Copy disk or partition to different disk or new partition (sector-by-sector copy [aka clone] or just copy existing data)
Modify partition name and/or letter
Wipe partition or disk
Wipe unallocated space
Test disk for errors
Rebuild MBR
View properties of a disk or partition
Hide or unhide partition
Convert partition from logical to primary and vice versa
Set partition as active
Convert FAT/FAT32 partitions or drives to NTFS
Migrate from HDD to SSD and vice versa
Ability to recover lost partitions
Supports NTFS, FAT, FAT32, ext2, and ext3 filesystems
Supports MBR and GPT disks of up to 2TB and 4TB in size, respectively
Supports all types of drives: internal, external, removable, flash, memory cards, USB 1.0/2.0, IDE, SATA, SSD, SCSI, FireWire, and SAS
Supports hardware RAID
Supports creation of WinPE (4.0) bootable CD/DVD/USB drive
Can automatically shutdown computer after operation has completed
Works in 'virtual mode' meaning all changes you make are not automatically applied; you need to explicitly click 'Apply' to apply all modifications. This helps avoid "oops did I really just do that" type mistakes
Works with UEFI/EFI boot
Has free and paid versions
Cons
Partition alignment, modifying serial number, modifying partition type, and converting between MBR and GPT disks are only available in the paid Pro version

(FYI: Most people have MBR disks – because it is the default way Windows is setup – and don't need to mess with converting between MBR and GPT.)

Free version of AOMEI Partition Assistant only supports basic disks — does not support dynamic disks. Pro version of AOMEI Partition Assistant has some functions that work with dynamic disks — such as converting dynamic disk to basic disk without losing data and copying dynamic disk to basic disk — but you need to purchase AOMEI Dynamic Disk Manager if you want to full-features that work with dynamic disks. (The freeware version of AOMEI Dynamic Disk Manager is crippleware, so don't be fooled by that.)

(FYI: Most people are on basic disks. If you are unsure, then you are on a basic disk because that is how Windows is by default. You would know if you changed to dynamic disk.)

Doesn't appear to support USB 3.0 drives (I don't have a USB 3.0 so I cannot test this, but the developer does not list support for USB 3.0 drives)

(FYI: Most people don't need to worry about lack of USB 3.0 support because most drives are still on USB 1.0/2.0 standard and most USB 3.0 drives are backwards compatible. So the lack of USB 3.0 should be a non-issue.)

Only has support for WinPE bootable disc/USB — no Linux-based
Does not support Server versions of Windows. There is a separate freeware AOMEI Partition Assistant Lite that works on Windows Server but that program is fairly useless. You need to purchase AOMEI Partition Assistant Server if you want server support.
Has an ad inside the program for AOMEI Data Backuper, a freeware backup program
Does not have the ability to modify cluster size on partitions without formatting whole partitions
Discussion
As you can see from the 'Pros' list above, AOMEI Partition Assistant is an excellent partition and disk management tool and offers pretty much all features the average user would need to manage their drives and partitions. What sets AOMEI apart from the competition is two things:
Firstly, AOMEI Partition Assistant comes with the ability to create WinPE bootable CD/DVD/USB drive. This bootable media allows users to run AOMEI Partition Assistant without having to boot into Windows, which is extremely useful not only when you cannot boot into Windows but if you want to mitigate the risk of data loss vis-a-vis partitioning. (Modifying partitions and data is always more safe when done without booting into Windows than while inside Windows.)
Secondly, AOMEI Partition Assistant's free version is is true freeware. In other words, AOMEI Partition Assistant Home is free for all types of users, home and business.
That said, however, AOMEI Partition Assistant's strength is also its greatest weakness. You see having the ability to create WinPE bootable media is great (excellent, in fact). The issue, however, is there is no support to create Linux-based. Now, I know what you must be thinking: "Ashraf, why would anyone need Linux-based when the program offers WinPE-based?" The reason is Windows Automated Installation Kit.
You see, for some computers, you must have Windows Automated Installation Kit installed in order to create the WinPE bootable. (This isn't an issue with AOMEI Partition Assistant itself but rather a requirement for WinPE in general.) Although the latest v5.5 of AOMEI Partition Assisstant claims you don't need Windows Automated Installation Kit, I've found this isn't always true. Why? I really don't know. all I know is when I installed AOMEI Partition Assistant v5.5, it still asked for Windows Automated Installation Kit.
The issue with Windows Automated Installation Kit is, Windows Automated Installation Kit is a 1.7 GB download, if you don't have it already. If Linux-based bootable was supported in addition to WinPE, people who didn't want to download Windows Automated Installation Kit could use Linux-based bootable instead. Sure Linux-based bootable media probably wouldn't have been able to have all the features of AOMEI Partition Assistant like WinPE-based bootable does, but it could have *most* of the features which would be enough for most people.
CONCLUSION AND DOWNLOAD LINK
Overall, despite the lack of Linux-based bootable, AOMEI Partition Assistant is an excellent partition manager… especially considering there is a freeware version that is feature filled. It is a pity that you must purchase a separate program for full dynamic disk support, even if you purchase AOMEI Partition Assistant Pro, but that is the price you pay for having a feature-filled always-free version available. If you need partition management, AOMEI Partition Assistant is an excellent option. Also, be sure to check out dotTech's review on Best Free Partition Manager for Windows!
Price: 'Partitions Assistant Home' is free, 'Partition Assistant Pro' is $36

Version reviewed: v5.5

Supported OS: Windows 2000 Pro/XP/Vista/Win7/Win8 (32-bit and 64-bit) | There are separate versions of Windows Server

Download size: 3.4 MB and higher

VirusTotal malware scan results: 0/46 (Home)

Is it portable? No
AOMEI Partition Assistant homepage
Related Posts