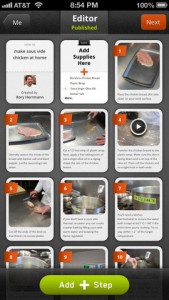 Some people are lucky: all it takes for them to learn a new skill is to be told how to do something. But for the rest of us, we need a visual reference. Whether it comes to learning how to cook a new dish or tie a bowtie, visuals are everything when it comes to doing something properly. That's why I was so intrigued when I heard about Snapguide, a how-to app that's filled with lush visuals to help you learn a new skill.
What is it and what does it do
Main Functionality
Snapguide lets users view phot0-packed how to guides on multiple subjects. Additionally, users can upload their own tutorials, and communicate with a community of people who love to learn new things. Discover new things to cook, build, wear, play, and more.
Pros
Beautifully designed app
Sign in with Facebook, Twitter, or your email address
The latest version takes up less space on your phone
You can now "mute" a guide that you are no longer interested in receiving updated comments about. Muting a guide prevents comments from badging the app and cluttering the activity in your "You" feed.
Cons
App contents are a bit heavy on food, crafts, and beauty tips. Would be nice to see more tech tutorials (though there are some nice how to guides for Photoshop, preserving your tech peripherals, and other tech topics)
You automatically follow the Snapguide Team when you start a new account (you can unfollow them under the "Me" section)
Discussion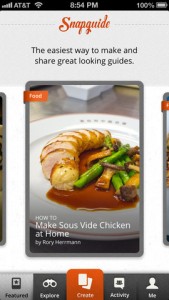 It is really easy to navigate Snapguide and find what's new, or what will intrigue you. You can explore "featured" guides, or navigate by topic area. You can also see which guides are getting the most views on that day, or look at the guides that have been most recently uploaded.
As someone who loves to cook, I loved the amount of food-related how to guides that are featured here. However, the app does seem predominantly focused on food, craft projects, and beauty tips. There are, however, a good deal of tech guides, as well as automotive tips, music guides, and fitness aids. And many of those tech guides are really well constructed.
The look of the app is great: very fresh, very modern, and yet also very inviting. True, the quality of the accompanying images will vary a lot depending on the author of the guide. However, most of the images I saw are of a very high quality.
Conclusion and download link
If you are the kind of person who is considered a visual learner, Snapguide is a great tool. You can easily search for topics that you want to learn more about, or just browse for a cool idea to occupy you on a rainy afternoon. If you like learning new skills, add this app to your arsenal.
Price: Free
Version reviewed: 1.1.2
Requires iPhone/iPad/iPod Touch, iOS version 5.0 or later
Download size: 42.8 MB
Related Posts