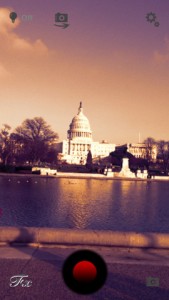 Videosis caught my eye last year when it got some good press on various tech blogs, and made a few "Best of 2012" lists. I hadn't had a chance to try it out until this week, and I'm sorry I waited so long. This unique video app is one of the best I've sampled in recent memory.
What is it and what does it do
Main Functionality
Videosis offers users a free, simple way to customize their videos. Featuring dozens of filters, users can also create custom effects from rippling to lomography! These features can be combined to create truly trippy, unique, and fascinating videos.
Pros
Tons of cool, real-time effects
Users can access their videos and photos within the app from the gallery. No need to go out of the app!
Supremely clean interface: just six buttons!
Cons
Developer disclaimer: The app performs super complex calculations to produce these beautiful video effects. Therefore users of the following iOS devices are discouraged from downloading the app due to slow behavior: iPhone 3G/S & 4, iPod Touch 4th gen., iPad 1st & 2nd gen.
Super annoying full screen ads pop up after you record a video clip, or when you enter a new menu screen
Developer response to user feedback can be a bit slow, since the app was developed by a single guy
Some of the color isolator filters aren't well-suited to low light: the red isolator, for example, picks up orange as well, while the green isolator didn't pick up greens at all
Discussion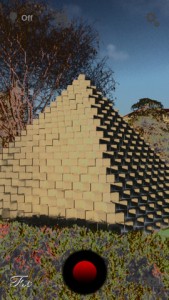 Looking at the pros and cons, it would seem that I didn't like this app at all. While there is a great deal more written about the cons, the fact is that the app is so solid that I struggled to come up with those minor issues. True, the app doesn't perform well on older iOS devices, and true, some of the filters don't perform well in low light conditions.
However, Videosis performs quite well otherwise. Six buttons sounds like a lot on paper, but they are so well spaced and thoughtfully arranged that the app is supremely simple to utilize. I loved the array of different effects as well.
My only real gripe are the full screen pop up ads that assault you at every turn. They pop up after every recording session, and frequently when you open a new action window. These pop ups are exceptionally annoying, and I wouldn't be surprised to learn that most users pay 99 cents to disable these aggressive ads.
Conclusion and download link
If you have an older iOS device, you won't be happy with how Videosis performs. However, iPhone users with a 4S or 5 will find that the app is not sluggish in the least. True, the pop up ads are extremely annoying, but the custom effects and filters are really fun to mess around with. The app is simple to use, and that alone makes this app far superior to other video effects apps out there.
Price: Free
Version reviewed: 1.1.1
Requires iPhone/iPad/iPod Touch, iOS version 5.1 or later 
Download size: 9.0 MB
Related Posts