There is no shortage of browsers on the internet. However, very few people ever stray from the three most popular ones: Firefox, Chrome and Internet Explore. Despite this, there is a whole world of browsers out there for you to try. Who knows, you may end up liking one of them more than what you are using now. Today we are going to be talking about another browser that is powered Mozilla, SeaMonkey.
WHAT IS IT AND WHAT DOES IT DO
Main Functionality
SeaMonkey is an all-in-one application suite. These kinds of browsers were first made popular by Netscape and later by Mozilla. In short, this is not just a browser; it also offers things such as a web feed reader, IRC chat, web development tools, HTML editor and even an email and newsgroup client. This browser brings together the best of multiple worlds and puts them into one neat little package.
Pros
Backed by Mozilla Foundation, so it uses the same source code of other Mozilla products, like Firefox, Camino, Sunbird, and Thunderbird
Great all-in-one internet application suite that was made popular in the past by Netscape and Mozilla
Prefect for both average and advanced users. However, advanced users tend to get more out of the browser thanks to the development tools.
Supports most add-ons that Firefox supports: Including add-ons like Personsa, LastPass, etc.
Offers other tools besides just web browsing, including a web feed reader, HTML editor, IRC chat and web development tools (like error console, debug mode, etc)
Navigation time is usually shorter than both Firefox and Chrome. Only browser I found to be quicker was Maxthon
Interface is customizable. Buttons can be arranged where you want them and toolbars can be hidden and shown with just the click of an arrow presented on the left side of the toolbar.
Offers other common browser features like the ability to sync data and translate pages (built into the browser, no add-on needed).
Cons
Had some problems when trying to use the HTML editor. A few times it would corrupt the source after trying to restructure it.
Initial startup speed is slower than Chrome
Discussion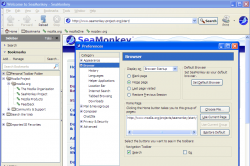 SeaMonkey is one of the lesser known browsers out there. Maybe it is because of its name. Whatever the reason, this is a great browser that tends to be overshadowed by its big brother Firefox. I say big brother, because SeaMonkey is made using the same source code as other Mozilla products like Thunderbird and Firefox.
So what makes SeaMonkey different? Well, SeaMonkey is not just a browser; it is an all-in-one application suite. This is because the browser also offers: a web feed reader, IRC chat, web development tools, HTML editor and even an email and newsgroup client. All of these features can be located at the button left of the browser and can be accessed with a single click. For example, click on the "Composer" icon, and you will bring up your own HTML editor.
The browser benefits from using the same source code as Firefox. First of all, it can use just about every add-on that Firefox can use. In fact, the add-on page for SeaMonkey is run by Mozilla and just has the Firefox icon replaced by the SeaMonkey icon. Just like Firefox add-ons tell you if they are compatible with your browser version or not, so do SeaMonkey add-ons.
If you care about speed, you are in luck. The initial startup time (the time it takes the browser to launch for the first time) is about 2 seconds longer than Chrome and a second faster than Firefox. This is not a big deal, because it only counts for the first time you are launching the program. After that, the average startup time is only .2 seconds slower than Chrome and about 2 seconds faster than Firefox. However, it is the navigation speed that I tend to look at the most. This is the time it takes for the browser to navigate between webpages. SeaMonkey is (on average), a second faster than Chrome and nearly 2 seconds faster than Firefox.
SeaMonkey used to not be considered a good browser, because it was missing the ability to import bookmarks, manage passwords, etc. Now, however, all of those features are present. That being said, there are a few features that are missing from SeaMonkey that you may miss. For example, the program does not support mouse gestures or voice commands. I would also like to point out that the program does not offer parent controls (without downloading an add-on), so this is a browser designed for adults.
CONCLUSION AND DOWNLOAD LINK
SeaMonkey is one of those browsers that many people just overlook (like Maxthon and RockMelt). However, if you are looking to break away from the most commonly used browser, SeaMonkey is a good place to start. It is quick, can use add-ons just like Firefox and offers built-in tools that other browsers are lacking. So if you like browsers like Firefox but you want a browser to be generally quicker than Firefox, SeaMonkey is worth checking out.
Price: Free
Version reviewed: 2.15.2
Supported OS: Windows 2000/XP/Vista/7
Download size: 21.19MB
VirusTotal malware scan results: 0/41
Is it portable? Yes
Related Posts