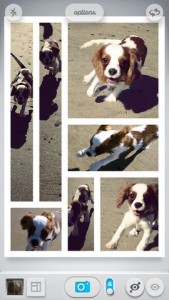 Photography apps on iOS are a dime a dozen, so its really hard for an app to make a splash in such a crowded marketplace. But one app I've found that stands the test of time is a simple, yet beautifully designed photo app called Grid Lens. If you want a unique way to capture a series of photos that perfectly encapsulates a moment in time, this inexpensive photo app is really worth checking out.
What is it and what does it do
Main Functionality
Grid Lens lets users make a single composite image that is built of various different photos. You can take photos in each frame split by grid lines to create your own story. Pick a layout, and then start filling it out, one by one, with a series of pictures. Tap each empty frame to take a new photo, or touch and hold the empty frame to fill it with an image from your photo library.
Pros
Incredibly easy to use
Your choice of single or multicamera mode: you can fill each slot with a different image, or take one photo and have it broken up artistically by the grid lines
Customize your own grids by simply adding and placing lines as you like.
Apply one of six filters or custom border colors
Share pics to Twitter, Facebook, Instagram, or Flickr
Fast camera reaction time
Add captions and stickers to your creations
Cons
App costs 99 cents, but it's so worth it
Can't create rounded borders
I wish that the exported images were slightly larger
Discussion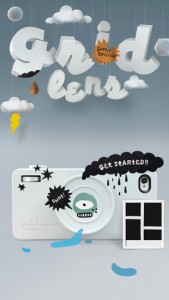 You have to love a photo app that treats you to a cute animation after you save every project. In Grid Lens, after you save your project, a cute little monster "eats" your image. It's just one of many small touches that makes this app so appealing.
You can capture pictures by tapping the respective frame you want your current shot to appear in or by using the shutter button. The shutter button has a manual and automatic mode.
I can't tell you how smooth and fun Grid Lens is: it's way more fun than Instagram. You can use either your iPhone's front-facing camera, or the lens that faces you to take the most epic selfie ever.
I love to use this app to take pictures of a night out with friends, or a day at the beach. It's the perfect way to capture one moment of time from multiple angles. This app couldn't be easier to use, and it becomes addictive: after a while, you won't want to use any other photo apps.
Conclusion and download link
If you want a new photography app to play around, I can't say enough nice things about Grid Lens. It has a wonderful design, a ton of different features and settings to mess around with, and more. It's just plain fun to mess around with, and the results couldn't be more beautiful.
Price: 99 cents
Version reviewed: 1.3.2
Requires iPhone/iPad/iPod Touch, iOS version 5.0 or later
Download size: 27.3 MB
Related Posts