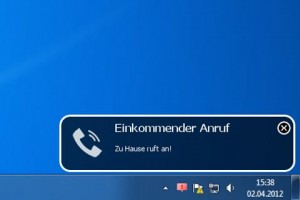 DeskNotifier is an incredibly simple application that pushes all of your notifications on your Android device to your desktop. This can be incredibly useful for people who perhaps aren't able to use their cell phones while at work. It can also be useful for people who don't want to interrupt their workflow by constantly checking his or her phone.
What is it and what does it do
Main Functionality
This application's main functionality is to provide a simple and unobtrusive window on your desktop that displays all of your notification as soon as you receive them. It is designed from the ground up to alert and provide basic information while still allowing you to continue working.
Pros
Send notifications to desktop
Send SMS messages from desktop
Connect via WiFi or USB
Supports many applications
Cons
Windows only
Consistency issues
Discussion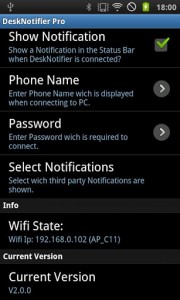 For those who rely on their technology to be productive, having a desktop that you work on and a small device that you use to stay updated can be frustrating sometimes. It is particularly frustrating when you need to receive important emails and text messages while you are working on your desktop. DeskNotifier aims to solve this problem by simply having your notifications pop up on the bottom of your desktop's screen. This is an incredibly simple concept and actually works rather well. The notifications pop up in an attractive square and give you a normal preview of the notification that your Android device typically provides in your notification bar.
There is in fact a pro version of this application that will give you significantly more features than the free version. You will be able to specifically choose which notifications you want to display and which ones you don't. In addition, you can wirelessly connect to your desktop from your phone without using your IP address. Once you do that you will be able to send any file you want between your phone and your PC over the established connection that you can also set up to be secured by a password. The pro version will also allow you to send web pages from your Android device to your desktop so you can view them in a more natural environment.
The only real complaints of the application are a result from the lack of convenience that can be experienced. The desktop application only works with Windows machines. This is incredibly limiting as it completely blocks out Mac and Linux operating systems which actually do overlap with the Android community. Additionally, there can be some communication issues between the Android application and desktop application. While it doesn't happen very often, it can be extremely frustrating when it does as it can cause delays when receiving notifications.
Conclusion and download link
This application is really great for those who use desktops a lot. However, the pro version is almost useless due to the fact that Google already provides many of the extra services. Google Drive will allow you to wirelessly transfer files from your phone to computer and Google Chrome feature tab sync so no matter what tab you have opened on your desktop, it will also be available on your Android device and vice versa. However, the application does provide a rather convenient service so some people may choose to support the developer because of this.
Price: Free, $1.30

Version reviewed: 2.0.0

Requires: Android 1.6 and up

Download size: 62 KB

DeskNotifier on Play Store | DeskNotifier Pro on Play Store
Related Posts