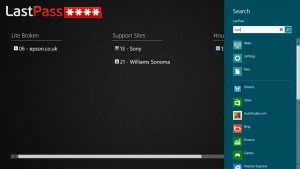 LastPass is a very famous password storage utility. It has for ages, helped us store all our cumbersome passwords across platforms with ease. And now it enters the Windows 8 realms, with hopes of gaining our trust. And is it really worth it? Can we trust this app? That is something for you to decide after you read the review.
What is it and what does it do
Main Functionality
LastPass is a password and data management service that stores all your logins securely, so you can access your accounts and services from anywhere.
Pros
Stores all credentials in a password protected vault
Easy password generation with one click password generator
Sync your data to the cloud securely for access via all devices
Store all you personal data like passports, and more in secure notes
Two step verification
Good search integration with the Charms bar
Cons
UI needs improvement
Organization of passwords gets messy, if you have to many
Browser features are missing
More integration with the system is required
Discussion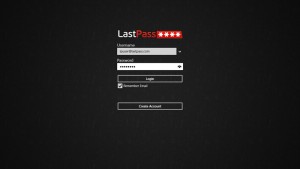 LastPass is one must have utility. Not necessarily the Windows 8 app, but it does save a lot of time if you have it on your Phone or browser. It is definitely one of the pioneers in password storage field and with this in mind, they have entered the Windows 8 field. Now is this a great app or just another shabby Windows 8 port?
Well to begin with, the app does what it promises. It stores password and makes your online easy and secure by auto filling passwords. It does the usual storage of passwords and all your credentials on the cloud vault. This vault is secure and all controlled by your master password. Once you enter it, you can store and view all your sites and notes saved across various devices. Best part about this tool has to be the cross platform support. With already great apps on various platforms, the cross platform functionality is great. Also the auto fill function is available for easy entering of your credentials.
Also you can store all your personal details like credit cards, passports, etc on notes and save them in your vault. And you don't have to think hard and long about creating passwords any more, the app provides a secure password generator. The app has a two factor authentication which works like charm. And talking of Charm, the app has neat integration with Search bar making it easy to get quick access to your login details.
But, the app does have its share of cons for sure. To begin with the UI is pretty bad. LastPass always had a problem with UI and it never has been its forte. But with Windows 8, having so much free screen space, developers must think about the UI, because the people will notice it for sure, and trust me they won't be very forgiving. They should work on making it more intuitive and attractive.
The app does have problems with organization once you have too many sites on the list. There is no single way to rename groups and even the default organization I feel can be improved. Many of the touted features in the browsers are missing. The developers must also look into bringing in more proper integration with the system. For instance, the default browser should be made available every time and not the in app browser. Also if they can figure out some way to prove credentials across apps, it would be wonderful.
Conclusion and download link
LastPass for Windows 8 had a huge exception to live up to. But it definitely falls short on this. The app is for people who require LastPass as an app on Windows 8. The truth is most of us don't require it as an app. You can get more speed and functionality by using the browser plugins for Chrome and Windows 8. The app doesn't have any unique features that makes it a must to use on Windows 8. (Though for Windows RT users this app must be their prayers being answered.) So while I do feel you will be better off using LastPass via the browser, if you are a LastPass user then give this app a try and decide for yourself.
Price: Free
Supported OS: Windows 8, Windows RT
Supported architectures: x86, x64, ARM
Related Posts