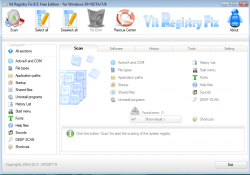 A good registry cleaner is something that everyone needs. After prolonged use of a computer, its registry is going to start filling up with broken links, missing keys and invalid references that keep it from running as quickly or stable as it should. That is why free registry cleaners like Vit Registry Fix Free are so helpful. Does this program get the job done? Let's find out!
WHAT IS IT AND WHAT DOES IT DO
Main Functionality
Vit Registry Fix Free is a registry cleaner designed to help you remove all of the invalid registries that may be bogging down your computer's performance and affecting its stability. With just a few clicks, this program can scan your computer, create backups and get your computer running smoothly again.
Note: As Ashraf has said many times, registry cleaning often provides not very much benefit as compared to the risk of screwing up your registry. Most people have no need for a registry cleaner so there is no need to run one. However, if you want a registry cleaner, then keep reading this review.
Pros
Scans your computer for missing keys, invalid references, and broken links
Scan is completed quickly, despite the fact that it also runs a deep scan at the end of the scan process
Creates a backup of your registry before applying changes for extra security
Provides you with extra tools besides just a registry cleaner. This includes a disk cleaner, Windows startup manager, uninstaller and even a registry optimizer
Interface is user friendly
Cons
English is not this program's first language (obviously). Grammar mistakes and sentence structure make it difficult at times to understand tool descriptions
There is a Professional version available, and the program does not hesitate to remind you of this from time to time
When the program is closed, it always brings up its website, offering you the Professional version of the program
Discussion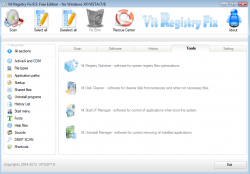 As we all know, registry cleaners can be dangerous to use at times. I mean, if you delete the wrong registry, you can do a lot of harm to your computer. So finding a good one is not only hard, but very important. When I first came across Vit Registry Fix Free, I was eager to give it a shot. Despite a few worries at the beginning, the program turned out to do a pretty decent job.
When I first booted up the program (after download and installation) I was greeted by a very worrying screen. It read something close to the effect of: "There are Professional version available." It was pretty apparent that English was not this program's first language, and it had me a bit skeptical to proceed.
In the end, I was happy I choose to overlook the program's…English grammar. With just one mouse click, I was able to scan my computer's registry for errors. It had been a LONG time since I last ran such a program, and it was able to locate over 1100 errors. Then when the program said it located this many errors, I started to become skeptical. However, after checking out the scan report, I could see that all of the errors were clearly listed out for me.
Now it was time to remove the errors. After clicking "Fix" it told me: "Before removing will be created backup." Of course, what it was trying to tell me in its own…special way was that a backup would be created before the files are removed. This was reassuring since it found so many errors.
After all of the errors were deleted, I noticed no problems with my computer. I dare even say that my computer seemed less sluggish, but this may have simply been wishful thinking. Either way, the program completed the task without crashing my computer or causing any noticeable harm.
From there I went to check out the other tools this program came packaged with. The uninstaller was actually very helpful. It allowed me to uninstall programs as promised, and it even allowed me to delete items from the list that were "broken". I had a few things that had been on my programs list for a while but actually not installed on my computer. This allowed me to delete them.
The rest of the tools worked as you would expect. The startup manager allows you to remove things from startup, and the disk cleaner will help you remove junk from your computer. All of them work well enough, but nothing to write home about. In fact, most of us probably already have a program or 2 on our computers that already handle these tasks.
CONCLUSION AND DOWNLOAD LINK
In short, Vit Registry Fix Free is a great free registry cleaner. The interface is easy enough that basic computer users should feel at home using it. There were a few concerns regarding the English translation, but nothing deal breaking. Just be sure you carefully read the descriptions, and you should be able to figure out everything the program is attempting to tell you. I recommend this program for anyone who is looking for a good, free registry cleaner.
Price: Free
Version reviewed: 9.5.9
Supported OS: Windows XP/Vista/7/8
Download size: 2.31MB
VirusTotal malware scan results: 0/46
Is it portable? No
Vit Registry Fix Free homepage
Related Posts