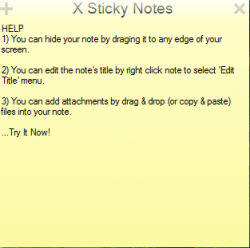 I usually have a lot going on at any given time when I'm on the computer, and it's easy to forget things that I need to do sometimes. That's why I tend to use "sticky note" programs, to help me remember important things I need to do. I have tried a few, but have never gotten around to trying X Sticky Notes Lite. I have heard good things about it, so let's check it!
WHAT IS IT AND WHAT DOES IT DO
Main Functionality
X Sticky Notes Lite is a program that allows you to post a number of sticky notes to your desktop. However, unlike some other sticky note programs, these notes can auto hide themselves when dragged to the edge of your screen. You also have full customization over your text and can attach documents to your notes.
Pros
Notes auto hide by dragging them to the edge of your screen
Customize your backgrounds with different colors
Customize your text easily
Adjust the transparency of your notes
Allows you to password protect your notes
You can set reminders that will activate even if the note is auto hidden
Cons
VirusTotal came back with a score of 4/46 (which probably indicates false positive, but you never know)
It can be hard to remember which notes you have dragged off your screen. This can cause you to check several notes before finding the one you want
Discussion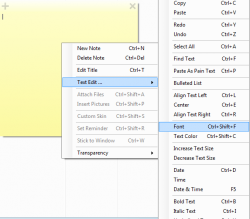 I love a good sticky note program. After hearing some good things about X Sticky Notes Lite, I was excited to try it. However, I did not really see how it could improve on other note programs I was already using, but I was willing to give it a chance.
One of the big features of X Sticky Notes Lite is the auto hide feature. In fact, this is the feature they first tell you about after you download and install the program. The way the feature works is simple. You create a note, drag it to the edge of your screen, take your mouse off the note, and it auto hides itself. When you want to see your note again, move your mouse over to that section of the screen and the note will pop back up. You won't forget that your note is hiding because a small piece of the note will be sticking out from the side of the screen.
Although I loved the auto hide feature, the program was going to need more than that to win me over. From here, I started messing around with the customization options. Apparently you can customize the appearance of your notes by either changing their color or adding a picture to them. This was a neat option. After all, if I am going to have these notes on my desktop, they might as well look good. The program also gives you a lot of customization over your text by allowing you to change the color, font, size and alignment. Also, just like other sticky note programs I have used, this one lets me password protect my sensitive notes as well.
Apparently there are three versions of this program. There is the 40-day-trail, Lite and Full version. As you can guess, the Lite version is the one that we reviewed today, because it is free. It also has no time limit and no ads. However, there are some functions only available in the Full version. For example, the full version allows you to attach programs, documents and images to your notes. You can also associate your notes with any document on your computer. The Full version gives you access to more customization options as well, like the ability to use images as your background. The cost of all of this is $19.99.
CONCLUSION AND DOWNLOAD LINK
For the most part, the Lite version of X Sticky Notes is worth using if you are looking for a new sticky note program. The auto hide feature is nice, and it gives you a lot of text customization options. It would have been nice to see more of features in the Lite version (like the ones that came with the Full version), but overall there is still enough here to justify a download.
Price: Free / Full version available for $19.99
Version reviewed: 2.2.1
Supported OS: Windows XP/2003/Vista/Server 2008/7
Download size: 930 KB
VirusTotal malware scan results: 4/46
Is it portable? No
Note: Before you download this program, please realize Kaspersky, TrendMicro, Comodo, and CAT-QuickHeal are detecting this as a Trojan (see VirusTotal link above). Because the detections are 4/46, we feel this is most likely a false positive but proceed further at your own risk. Only download this program if you are comfortable with this situation. dotTech and its writers are not responsible for any gain or harm incurred.
Related Posts