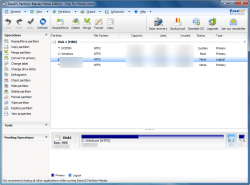 Looking for a way to manage your drives and partitions? Then you should read dotTech's review on best free partition manager for Windows. If, however, you are not satisfied after reading that review, then you might want to give EaseUS Partition Master a try.
WHAT IS IT AND WHAT DOES IT DO
Main Functionality
Described by the developer as an "all-in-one partition management solution", EaseUS Partition Master is a feature-filled partition manger that will not only let you do the basics of partition management (create, delete, format, resize, shrink, merge, etc.) but will also allow you to clone drives/partitions and securely wipe drives/partitions.

Take note EaseUS Partition Master has two version, Home Edition and Professional Edition. Home Edition is free for home use while Professional Edition costs $39.95. For the most part, Home Edition has all the features of Professional Edition except for two: the ability to create WinPE-based bootable media and the ability to resize dynamic disk partitions.
Pros
Straightforward and fairly easy to use
Has the typical partition management tools (resize, format, delete, merge, shrink, create, split, extend, move)
In addition to typical, has some advanced features too:

Change the letter and name of a partition
Convert primary partition to logical partition
Convert or copy dynamic disk to basic disk
Convert FAT to NTFS
Hide/unhide partitions
Copy disks or partitions to new disks or partitions (sector-by-sector or just files)
Error checking
Ability to recover deleted/lost partitions
Ability to defrag partitions
Ability to rebuild MBR
Ability to securely delete/wipe hard drives and partitions
Resize dynamic disk partitions (Pro only)

Has an interesting 'upgrade disk' feature which allows you to copy your current disk to a bigger disk and boot from that other disk (note: this is not migrating to a computer with dissimilar hardware — the disks have to belong to the same computer)
Supports Windows and Linux filesystems (FAT, FAT32, NTFS, EXT2/EXT3)
Supports internal and external hard drives/devices, USB devices, memory cards, etc.
Supports hardware RAID
Supports MBR (up to 2TB) and GPT (up to 4TB) disks
Supports UEFI/EFI boot
Users can create WinPE-based bootable CD/DVD/USB (Pro only)
Users can password protect the program
Has a free and paid version
Cons
Free version does not have the ability to create any type of bootable media and it is free for home-use only
Free version comes bundled with EaseUS Data Recovery Free (no way to download EaseUS Partition Master Home Edition without it) plus has a built-in ad for EaseUS Todo Backup Free
Free version has a launcher that wants to always stay on in your system tray; there is no ability to disable this behavior — you must manually close it yourself
Pro version has ads built-in for EaseUS Todo Backup and EaseUS Data Recovery
Neither the Free or Pro versions can create Linux-based bootable media — Pro can do WinPE-based
It looks like Pro creates WinPE 3.0 bootable media instead of the newer WinPE 4.0
No support for Mac filesystems or EXT4 Linux filesystem
The defrag feature does not allow the user to view any sort of "analysis" before conducting the actual defrag
Users can only defrag single partitions at a time
No align partitions feature
Discussion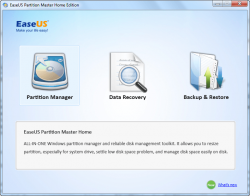 EaseUS Partition Master, by all measures, is an excellent partition manager. Not only does it offer the basics of partition management but it also offers many features that go beyond the basics, as you can see in the 'Pros' list above.
One of the more interesting features of EaseUS Partition Master is its 'upgrade disk' feature. This feature allows you to migrate (copy) data from your main system drive to a bigger hard drive and boot from that drive. Take note this is not the ability to migrate to dissimilar hardware; this is for when you are putting in a bigger drive in your computer.
What makes EaseUS Partition Master attractive is not just the features it offers, although it does offer a good amount of features, but rather the fact that it has free and paid versions. Not only does it have free and paid versions but the free version has almost all of the same features as the paid version, except for two: the ability to create Linux-based and WinPE-based bootable media and the ability to resize dynamic disks.
The lack of the latter feature is not that big of a deal because most people use basic disks anyway. (If you don't know what type of disk you use, you probably use basic disk because Windows is set to use basic disks by default. You would explicitly know if you are using dynamic disk because you would have made to made the switch yourself.)
The lack of bootable media, however, is a big negative in the free version. Of course, if you really need the bootable media you can purchase the paid version ($39.95), or you can grab AOMEI Partition Assistant or MiniTool Partition Wizard, both which are feature-filled partition managers that offer bootable media in their free versions. Plus AOMEI Partition Assistant is free for home and business use.
CONCLUSION AND DOWNLOAD LINK
Overall, regardless of which version you opt for, EaseUS Partition Master is an excellent program that deserves your attention. Not only is it feature-filled, but it is easy-to-use and generally reliable. Of course the lack of bootable media in the free version may turn off some people but if you really want bootable media you can either purchase the paid version or you can look at alternative programs, like the already mentioned AOMEI Partition Assistant or MiniTool Partition Wizard.
That said, my recommendation is along those same lines. I really like EaseUS Partition Master but when a rival program — that offers pretty much the same features with the same ease-of-use — provides bootable media for free and is free for home and business users… the decision is a no brainer. Read dotTech's review on best free partition manager for Windows to learn more.
Price: Free (for home-use only), $39.95

Version reviewed: 9.3.0
Supported OS: Windows 2000/XP/Vista/7/8 (32-bit and 64-bit)

Download size: 19.8MB (free version)

VirusTotal malware scan results: 0/44 (free version)
Is it portable? No
EaseUS Partition Master homepage
Related Posts