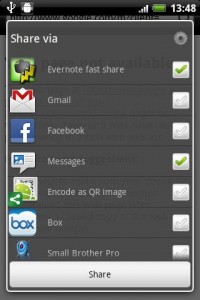 Andmade Share replaces the stock Android share menu with one that is more functional and convenient when dealing with multiple services. This application is great for those who like sharing the same content across multiple social platforms. It is also great for those who have simply grown tired of Android's current implementation and need something with a little more function and convenience.
What is it and what does it do
Main Functionality
Basically Andmade Share replaces the stock Android 'share' menu with something that is more customizable and usable.
This application is simply designed to make sharing the same content on multiple services easier and downright effortless. It's inspiration is arising as more and more people begin to spread their lives across multiple social platforms. You will also get the option of choosing between a free and a pro version depending on the features you want.
Pros
Share content to multiple services at once
Is a replacement for the default 'share' menu, so whatever appears in that menu appears in this menu — that includes email, apps, messaging, etc.
Customize share list
Hide services you don't need
Cons
Inconsistent crashes
Free version cannot group several application into one-click share
Free version does not have offline queuing or a WiFi only option
Discussion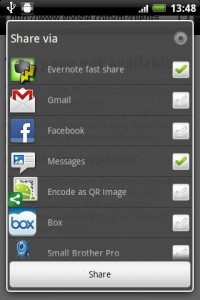 Andmade Share is an incredibly simple application that provides a wealth of functionality. All it does is add secondary options to your share menu. However, these options will make your life significantly easier almost instantly. Once you have content you want to share, click the share symbol like you normally would. Once you've set the application as default, it will take you right to your new options. You will be presented with a list of possible services that you can share the content to. You can select as many of these services as you want, including Facebook, Google+, and Twitter. These services are also customizable, which means you can drag and drop to order them as you want them to appear in the list. Along the same lines, you can hide the services that you know you will never need, making your choices much easier and cleaner.
If you decide to spring for the pro version, you will enjoy a few more luxuries that you couldn't with the simple free version. For starters, you can group several applications together with a single click. This means you can have an image go to Google+ and Facebook without having to select each service individually. You also get offline support, which means that if you share something without a connection, then the content will be queued until you have an active connection. Along the same lines, you get an option to only share content over WiFi, a feature especially handy for those with limited data plans.
Conclusion and download link
Overall, this application provides an amazing feature that is almost flawless. In fact, it really makes you wonder why Google themselves haven't implemented a similar solution. It seems as though this type of functionality is a pretty logical step when you want to share something. Regardless, anybody who share content on a regular basis will undoubtedly find this application to be a saving grace, saving you time and frustration.
Price: Free, $2.00 (Pro)
Version reviewed: 5.2
Requires: Android 2.1 and up
Download size: 1mb
Related Posts