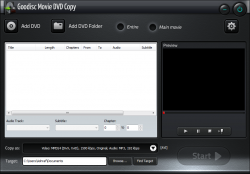 Have a bunch of DVDs you want to watch on your smartphone or tablet? Or maybe you want to watch the DVDs on your computer without having to put in the discs every time. Or maybe you just want to store your DVDs in a different video format. Whatever the desire, you need a DVD ripper to do the job. Goodisc Movie DVD Copy is one such DVD ripper. Is it worth your time? Let's take a look.
WHAT IS IT AND WHAT DOES IT DO
Main Functionality
Goodisc Movie DVD Copy is a program that allows you to rip your DVDs to other video formats. It supports DVD discs and DVD folders, and can bypass DRM protection.
Pros
Rip your DVDs to other video formats
Bypasses DRM protection
Supports DVD discs and DVD folders
Can rip just audio from DVDs
Has the ability to rip whole DVDs, just the main movie portion (i.e. without the commercial stuff at the beginning and/or end), or specific chapters
Supports a good number of output formats: AVI, MP4, FLV, SWF, MPEG, RM, WMV, MOV, 3GP, WAV, WMA, OGG, AAC, M4A, FLAC, and MP2
Has support for a handful of electronic devices with pre-defined profiles you can pick: iPod, iPhone, AppleTV, PSP, BlackBerry, (Generic) Mobile Phone, and iPad
Supports NVIDIA CUDA and AMD APP GPU acceleration
Allows you to preview movies from within the program and take screenshots
Can automatically shutdown the computer after a rip
Cons
The developer does not explicitly tell us which forms of DRM protection is bypassed by this program. Heck, the developer doesn't even tell us DRM protection is bypassed by this program at all; I only know it bypasses at least some type of DRM protection because it was able to rip a DRM-protected DVD I own.
Rips very slowly, primarily due to the fact that it is unable to use more than one core of CPU
Extremely poor and limited support for electronic devices outside of Apple devices. Even support for Apple devices is poor, e.g. the highest resolution for an iPhone and iPad output profile is 620×480. And doesn't even have any Android or Windows Phone profiles.
Users are not allowed to customize output settings
Cannot rip to ISO
Cannot rip to a lossless DVD format (for the purposes of reburning or storing DVD in lossless format). Heck, can't rip to VOB period.
No real offline or online 'Help'
Discussion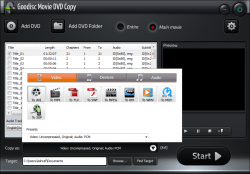 When I was downloading Goodisc Movie DVD Copy, I noticed it was less than a 5 MB download. I thought to myself: wow this isn't a very large download at all for being a DVD ripper. After reviewing and testing the program, I know why: Goodisc Movie DVD Copy is terrible.
On the surface Goodisc Movie DVD Copy looks similar to any of the other dozens (hundreds?) of DVD rippers out there. When you look a bit more closely, however, you will notice the cracks in this program. The first of which is output format/profile support.
As mentioned in 'Pros' above, Goodisc Movie DVD Copy supports a good number of output formats — AVI, MP4, FLV, SWF, MPEG, RM, WMV, MOV, 3GP, WAV, WMA, OGG, AAC, M4A, FLAC, and MP2 — and supports profiles specific to iPod, iPhone, AppleTV, PSP, BlackBerry, (Generic) Mobile Phone, and iPad (plus some a handful of other devices, most of which are unpopular, that you find not under the 'Devices' tab where they should be but rather but you open the menu for 'Presets' under 'Videos'). However, it does not support ripping to lossless DVD format which would help in reburning to discs if ever desired or just helps store DVDs in a lossless format; the program cannot rip to VOB or ISO, period.
On top of that, support for specific electronic devices is pathetic. Forget the fact that no Android or Windows Phone devices are supported; even support for the popular Apple devices is piss-poor. For example, the highest quality output profile for iPhone and iPad has a resolution of 620×480. Seriously? 620×480 when the latest iPhone (iPhone 5) and iPad (iPad with Retina Display) far surpass that resolution.
To make matters worse, there is absolutely no ability to customize output settings. Most DVD ripper provide a bunch of pre-set output formats/profiles users select and then give users the ability to customize these settings if desired (e.g. change resolution or bitrate). Not Goodisc Movie DVD Copy. There is no way to customize output settings with this program.
Not enough to turn you away from this program? How about the fact that the developer doesn't bother to inform us what type of DRM protection this program can bypass. Heck, the developer doesn't even tell us the program can in fact bypass DRM protection. The only way I know it can bypass at least some DRM protection is due to the fact that it is able to rip my DRM-protected Jurassic Park III DVD.
UPDATE: Some people are saying this is program doesn't bypass DRM protection. This *can* bypass DRM protection; my Jurassic Park 3 DVD is DRM protected and it was ripped with this program just fine. The issue is the developer does not specify what type of DRM protection can be bypassed. My guess is this program can only bypass simple DRM protection so what is happening is people are trying it with DVDs that have advanced DRM which the program probably doesn't work with. That is why some people feel it doesn't bypass DRM protection.
Still want to give this program a chance? Then I hope you have a lot of patience and free time because this program rips extremely slowly. While I cannot complain about output quality too much (didn't notice much of an issue there), I can say that you will be waiting ages for Goodisc Movie DVD Copy to rip your DVD. Sure NVIDIA/AMD GPU acceleration is supported and those of you that have supported graphics cards will be able to enjoy quicker rips due to this support. However, Goodisc Movie DVD Copy is unable to make sure of more than one CPU core which means it burns extreeeeeeeemellllllllllllyyyyyyyyyyyy slowly.
To give you a rough idea of how slow this program is, it was telling me it would take about eleven hours to burn my roughly 1 hour 30 minute Jurassic Park III movie to 1080p AVI. And this isn't a case of the program giving a wrong estimate (i.e. this isn't a program actually ripping faster than its estimated time). Based off how much it ripped in the few minutes I ran this program, I extrapolated how long it would take and the estimate given by the program was spot on. I realize 1080p rips are going to be slow due to their high resolution but eleven hours. Really? Other programs are much quicker than this. Non-HD AVI rip was estimated to take four hours, which really isn't much better. (Note: I don't have NVIDIA/AMD graphic cards, so I couldn't take advantage of CPU acceleration.)
CONCLUSION AND DOWNLOAD LINK
Don't bother with Goodisc Movie DVD Copy. It is not worth your time or money. Instead, if you want an excellent DVD ripper (that not only rips DVDs to other video formats but also to lossless DVD format and ISO) and are willing to pay for it, check out WinX DVD Ripper Platinum. If you want a freeware DVD ripper, there is WinX DVD Ripper (free version) which does some but not all of the things that WinX DVD Ripper Platinum does. Then there is DVDFab HD Decrypter or DVDSmith, both which will rip DVDs and bypass DRM protection but not convert DVDs to other formats; you will need a freeware video converter like Freemake Video Converter to handle the DVD conversions after they are ripped.
Price: $39.95
Note: At the time of this writing this program is on sale for $29.95
Version reviewed: 4.1.6
Supported OS: Windows (specific versions unknown)

Download size: 4.9MB
VirusTotal malware scan results: 0/45
Is it portable? No
Goodisc Movie DVD Copy homepage
Related Posts