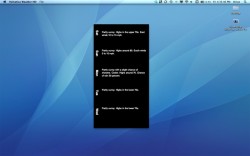 Helvetica is one of the most beloved fonts in the history of typography. It's so well-loved that it even inspired a 2007 documentary that honored the 50th anniversary of the font's creation. Helvetica is beloved because it is considered highly readable, and because it has beautifully proportionate lines. If you're a fan of this crisp, clean font (or just a fan of typography in general), then you are gonna love Helvetica Weather, a weather app for Max OS X that's unlike anything else out there.
What is it and what does it do
Main Functionality
Featuring a white-on-black text design, Helvetica Weather offers current weather conditions and temperature for any US zip code. This app has a simple set of features, and an even more simple design aesthetic.
Pros
Accurate weather for your area
Customizable color schemes (default is white text on a black background)
Perfect for typography and design fans who want a clean app for weather predictions
Easily review location, temperature, humidity, windspeed, and predictions for the day at a glance
Cons
Only works for US zip codes
Hasn't been updated since 2011
Many weather info seekers prefer a weather app that has icons for weather conditions, or color-coded displays that represent the temperature/conditions
Discussion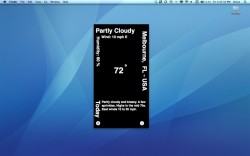 Helvetica Weather displays all weather conditions in the Helvetica font. Designed by Swiss designer Max Miedinger in 1957, Helvetica is a sans-serif font that is among the most widely used and adored in the world.
Upon launching, the app shows you the current temperature as well as the current conditions for your zip code. If you tap the info button in the lower left corner of the screen you will be shown the settings screen.
In the settings you can change the zip code, background color, text color, and units used. The app offers limited customization: you can choose from 7 different text colors, which can be displayed on either a black or white background.
The biggest issue with Helvetica Weather is that the app works by inputting a zip code. Unfortunately, if you don't live in the US, you don't have a zip code associated with your address, and the app won't work for your local weather.
Conclusion and download link
If you're a typography fan with a deep love of Helvetica, this tasteful weather app is a great change of pace from every other weather app out there. True, some users will miss having color coded or icon-based weather screens to review. However, if you value form just as much as function, this Helvetica app is worth checking out.
Price: Free
Version reviewed: 1.0
Requires: OS X 10.7 or later, 64-bit processor
Download size: 0.1 MB
Helvetica Weather on Mac App Store
Related Posts