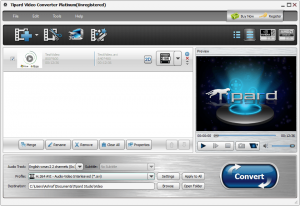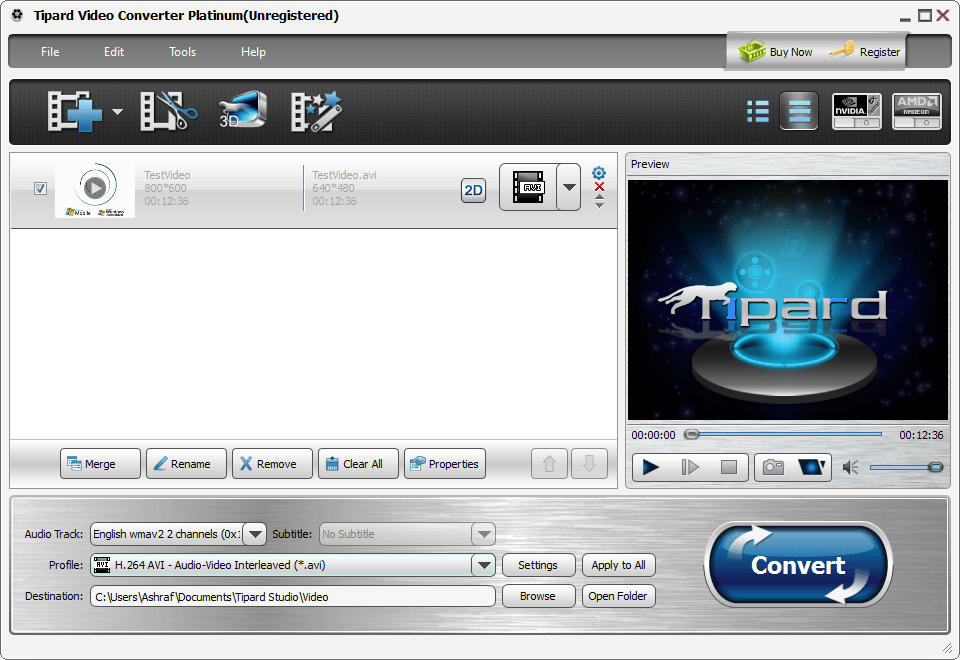 With so many different video and audio delivery methods (e.g. online or DVD), video and audio formats, and electronic devices, it has almost become a necessity to have a competent video and audio converter at your disposal to fulfill your converting needs. Tipard Video Converter is one such audio and video converter. Let's see if it is worth your time.
WHAT IS IT AND WHAT DOES IT DO
Main Functionality
Tipard Video Converter is an audio and video converter. It allows you to convert audio and video files to other formats.
Take note there are two versions of Tipard Video Converter, Platinum and Standard. The differences between the two are minimal. Standard does everything Platinum does except Platinum has three extra features: ability to convert 2D videos to 3D, ability to clip input files into separate segments, and ability to easily switch to a different input file when using the editing features.
Pros
Can do audio -> audio, video -> video, video -> audio conversions
Supports both SD and HD videos
Supports batch processing
When batch processing, each input video can be set to a different output format with its own customized settings (i.e. all input files need not be converted to the same output format with the same output settings)
Supports a large number of input and output formats, including but not limited to AVI, MP4, WMV, MOV, FLV, VOB, and 3GP. (Click the image to the right of this bullet point to see exactly what input/output formats are supported.)
Supports a large number of electronic devices vis-a-vis pre-defined output profiles. (Click the image to the right of this bullet point to see exactly what input/output formats are supported.)
Users are given full control over output settings, such as bitrate, resolution, codec, etc. Plus, users are allowed to manually input a custom resolution if there isn't an option in the drop-down that you like.
Has basic editing capabilities: crop; clip (Platinum edition only); modify brightness, contrast, saturation, and hue; enable deinterlacing; add a text or image watermark; modify volume level; disable volume totally; and enable 3D (Platinum edition only)
Can merge input videos together into one output
Has the ability to make use of all the cores of your dual-core or quad-core CPU
Supports NVIDIA CUDA and AMD APP GPU acceleration
Can take screenshots of videos and save screenshots as JPG, BMP, and PNG
Performs well (fast and good output quality)

Note: It appears that the workhorse behind Tipard Video Converter is FFMPEG, so the output quality of Tipard Video Converter is the same as all the other converters that use FFMPEG. In other words, excellent output quality.

Has the ability to automatically shutdown computer after conversions have been completed
Easy to use
Cons
Price is very high considering that there are tons of freeware video and audio converters that will do the same thing for $0
No "keep original resolution" option

Note: The lack of "keep original resolution" isn't that big of a deal because the program allows you to type in any custom output resolution you desire. So if the drop-down menu for output video resolution does not contain an option for the same resolution of your input video, you can manually type in the resolution. This is made easier due to the fact that the program displays what the resolution of the input video.

Developer claims you can trim input files with this program but it isn't very clear how to trim. I, for one, couldn't figure it out.

Note: Trimming is different from clipping. Clipping in Tipard Video Converter allows you to break an input file into separate segments, with each segment being its own output file. Trimming, in theory, would allow users to tell Tipard Video Converter to only convert a specific portion of the input file. However, there is no obvious way on how to use trimming. You can, of course, use clipping as a method of trimming if push comes to shove but clipping is only available in Platinum (not available in Standard) while trimming is supposedly available in both Platinum and Standard.

The output profiles for specific electronic devices are not always up-to-date (e.g. has profiles for New iPad but not New iPad with Retina Display) and are lacking when it comes to Android and Windows Phone devices (e.g. has a profile for Samsung Galaxy S II and Galaxy Note but not Samsung Galaxy S III and Galaxy Note II)
Discussion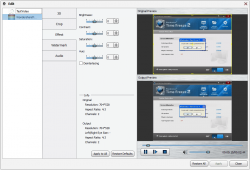 For all intents and purposes, there is very little to dislike about Tipard Video Converter. As you can see in the 'Pros' list above, the program supports many input and output formats, supports batch processing, can do both audio and video conversions, allows for basic editing, performs very well, and is easy to use. Indeed, the issues with Tipard Video Converter are few and far in between. In other words, it is an excellent audio and video converter. However, the major problem with Tipard Video Converter is price.
If this was 2008, 2009, or 2010, then Tipard Video Converter would be a catch — a unique and excellent audio and video converter. However, this is 2013. Video and audio converting is no longer an art; it is quite literally an exact science. There are so many excellent and viable freeware video and audio converters out there that offer pretty much all the same features and functionality as Tipard Video Converter, if not more. Aside from 2D -> 3D video conversions (I have yet to find a freeware that does 2D -> 3D conversions), there is absolutely no reason to drop a significant sum of money on Tipard Video Converter when you can grab a freeware converter for $0. I realize developers have to make a living and some opt for the shareware model to do so. However, asking $40/$45 for a program that offers very little more than freeware alternatives is absurd. In my mind, buying Tipard Video Converter is akin to performing an act of charity: willingly giving away your money for very little in return (when you consider the fact that you could be using freeware converters instead).
CONCLUSION AND DOWNLOAD LINK
In terms of features, usefulness, and usability, Tipard Video Converter is one of the best video and audio converters I have used; there really isn't much I can complain about when it comes to Tipard Video Converter. And those of you that have been following dotTech since the beginning know that it is a rare instance indeed when I cannot complain about a program.  The issue, however, is price. Aside from wanting to do 2D -> 3D conversions, why pay $40/$45 for Tipard Video Converter when there are dozens upon dozens of freeware audio and video converters that do the same thing?
My recommendation is to save your money and grab a freeware video and audio converter instead of Tipard Video Converter, such as Video to Video Converter Portable (does audio conversions, too, despite the name), Xmedia Recode Portable, FormatFactory, Freemake Video Converter, iWisoft Video Converter, EasyBrake Portable, and more. All of the ones I just mentioned are excellent and will take care of all your audio and video converting needs; some are even portable meaning you don't have to install them and can take them with you on-the-go on a USB flash drive. Pick one of these freewares (Video to Video Converter and FormatFactory are my top two picks, with Video to Video Converter having the portable advantage while FormatFactory having the advantage of being able to convert more than just audios and videos) and enjoy conversion bliss… without having to pay a penny.
Price: $40 (Standard), $45 (Platinum)

Version reviewed: 6.2.16
Supported OS: Windows NT4/2000/2003/XP/Vista/Win7

Download size: 23.7 MB

VirusTotal malware scan results: 1/46
Is it portable? No
Tipard Video Converter homepage
Related Posts