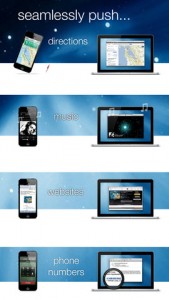 After watching "The Avengers" about a bajillion times, I'm still jonesing for an app that will let me "swipe" files and images between devices with a single gesture, just like Tony Stark does with Bruce Banner in the SHEILD Helicarrier laboratory. Til I can get my hands on that futuristic bit of Stark tech, I'll happily settle for the next best thing: BeamApp.
What is it and what does it do
Main Functionality
BeamApp is a Mac App with a corresponding mobile app. You can use BeamApp to "beam" any activity from your mobile device to your computer, and then back again. BeamApp is ideal for "beaming" directions, music, contacts, or just a cool website you've been browsing.
Pros
Free for both the Mac app and the mobile version for iPhone/iPad/iPod Touch
Brand new app that just debuted this month
Small digital footprint
Gorgeously designed interface
Seamlessly navigates your digital life
Cons
Users who aren't running OS X Lion on Mountain Lion can't run BeamApp
By default BeamApp looks at the application currently in the foreground: you'll get best beaming results if you minimize other windows
Not every app is compatible with BeamApp: hopefully this will be improved in future updates
Some other users have complained that BeamApp keeps asking them to download certain apps to perform a task, even when the app is already installed (for example, when you try to beam Google Maps directions from the web to your phone)
Some users have reported other bugs (But good news! The updates for BeamApp have already been submitted to Apple, so we should be seeing the bug fixes soon.)
Discussion
BeamApp is trying to fill a logical gap in the market that still hasn't been adequately filled. There are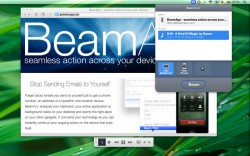 plenty of people who want seamless music when they are getting ready and then leave to go to work, or who want a better way to access their own personal information or reference materials on the go.
The makers of BeamApp suggest some useful scenarios for making use of their Mac App: "You finally found the phone number in an email? Just "beam" it to instantly dial it on your iPhone!…After planning a route on your tablet you can 'beam' it to your mobile and immediately start the turn-by-turn routing. And of course, you can beam websites."
However, not all is rosy with this brand new app. While there is a ton of potential in BeamApp, there are some big annoyances. For one, some users have reported that when they try to beam Google Maps directions from the Mac App to their iPhones, they get weird error messages telling them they need to download the Google Maps app…even when they have already done so. There's also an issue with some apps just plain not playing nice with BeamApp.
Conclusion and download link
If you're tired of constantly sending reminder emails to yourself to keep organized and keep tabs on important info, BeamApp is a great solution. True, there are some issues with this brand new app, but BeamApp is definitely a Mac App that's worth keeping your eye on.
Price: Free
Version reviewed: 1.0.0
Requires OS X 10.7 or later, 64-bit processor. Corresponding iPhone/iPod touch/iPad version of the app requires iOS 5.0 or later.
Download size: 2.2 MB
BeamApp on Mac App Store | BeamApp on Apple App Store [iPhone]
Related Posts