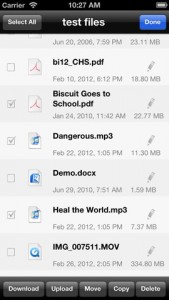 I think we've all been in a position where you needed to access an important file and forgot you put it on a flash drive or email it to yourself for easy access. If you don't have time to run home and get the file off your computer, the only option left is remote access. There are several iOS apps that will let you access files remotely on your Mac or PC, and finding the right one can be tricky. I recently gave FileExplorer Free a spin, and was pleasantly surprised.
What is it and what does it do
Main Functionality
FileExplorer Free lets you access files on your remote computer (be it a Mac, Windows, or Linux box.) You can use this app to steam music, movies, or photo slideshows to your iPhone, or access documents from your computer through iOS VPN or port forward.
Pros
Good array of supported operating systems and devices: Windows, Mac OS X, Linux, Time Capsule, AirPort Extreme and NAS server with SMB support.
Easy-to-navigate interface that makes setting up remote computer access very simple
Native readers support the following file types: JPG, PNG, TIFF, MOV, MP4, M4V,MPV, MP3, AAC, AIFF, WAV
Opens PDF files quickly
Universal app that allows users to password protect their information
Access files on Mac, Windows, or Linux machines
Cons
In order to access some of the best features, you need to pay to upgrade to the full version. This will unlock features like the ability to access files on more than one computer, as well as the ability to play more movie formats.
Dropbox, Google Drive, Box, and Microsoft SkyDrive support also hinge on upgrading to the full version
Support network discovery and make connection setup easily…but for some reason, the app found the devices of two other people in the room before it found me
Discussion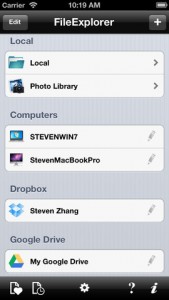 FileExplorer Free was developed by Steven Zhang. You can use the app to remotely access, enjoy, and manage your files while on your phone. You can play certain movie file formats, or listen to streaming music from your hard drive. Users can also copy files, rename them, move them to a new location, and even delete them remotely from your iPhone or iPad.
Need to find a file, but can't remember what it was called? FileExplorer free lets you sort files and folders by name, but also by size or by the date the file was created. In addition to audio and video, the app can easily open common work files like PDFs, Word and Excel documents, and documents from Numbers, Pages, and Keynote. HTML, plain text, and RTF are also supported.
I love how easy this app is to use, and I love that you can password protect the app to prevent unauthorized access. For people who already password protect their phone, this is a second line of defense that is much appreciated.
Conclusion and download link
If you need a cheap solution for accessing your files remotely, FileExplorer Free is worth trying out. However, it will not be ideal for you if you want to access files remotely from more than one computer (such as a work computer AND a home computer)…unless you upgrade. But with a solid design that is easy to navigate, I'd say that if you have even a passing interest in what this app is capable of, you have nothing to lose by trying it out.
Price: Free
Version reviewed: 2.2.2
Requires iPhone/iPod Touch/iPad, iOS version 5.0 or later 
Download size: 32.3 MB
FileExplorer Free on Apple App Store
Related Posts