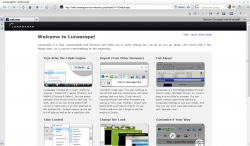 Do you like how certain browsers display pages better than others? What if you could use one browser and actually auto assign certain pages to be loaded with different rendering engines from different browsers? Well now you can with Lunascape internet browser.
WHAT IS IT AND WHAT DOES IT DO
Main Functionality
Lunascape is an internet browser that has multiple rendering engines built right into it. This allows you to actually switch engines on the fly or auto assign certain pages to be loaded with the engine of your choice. It offers you access to three different rendering engines: Webkit, Gecko and Trident. The program even supports three different types of add-ons, so you get the best of every world.
Pros
Can be set up as portable during installation
Gives you access to three different rendering engines: Trident, Gecko and Webkit
Allows you to use add-ons designed for Firefox, Internet Explorer or add-ons made specifically for Lunascape
Fast browsing experience, even when compared to other browsers that use the same rendering engine (quickest results when using the Webkit rendering engine)
Auto assign your favorite rendering engine to load certain pages. So you can have Gecko open certain pages and Trident open other ones without having to tell it to switch every time
Offers cascade view to show multiple tabs open side-by-side
Auto backups your data in case you accidentally delete your bookmarks or other settings
Offers mouse gestures
Sync your bookmarks with iLunascape or with FirefoxSync
Offers custom skins
Cons
Browser may be a bit advanced for basic users
Discussion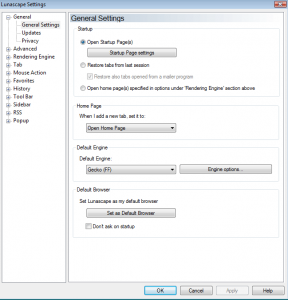 Lunascape is a great browser that I had actually never heard of. The browser itself is helpful because it allows you to use three different rendering engines. If you are already lost or don't know that browsers use different rendering engines, the great features this browser has to offer may be lost on you, and I would suggest sticking with what you have. If you cut out Lunascape's ability to use different engines, you are left with a pretty good browser, but not one that you will want to switch for.
After you download the program, it takes you through the setup. During installation you can choose advanced setup or even portable setup. This is nice if you are looking for a strong, portable browser that you can keep stored on a USB device. I recommend that you select advanced setup, because, if I remember correctly, it does not have the Gecko engine selected by default.
Since we brought up the topic of engines, let's cover the different rendering engines it offers you. The three it comes with is Trident, Gecko and Webkit. To give you an idea of what browsers use which engines, Trident is used by Internet Explore and Slim Browser, Gecko is used by Firefox and SeaMonkey, and Webkit is used by Chrome and Safari. There are a number of other browsers under each engine, but this gives you a basic idea.
One of the coolest features about this browser is the fact that you can actually assign different engines to different webpages. So maybe you like the way that your favorite gaming site looks with the Gecko engine, but you like the way a certain forum looks like with Webkit. You can actually assign these different pages to different engines. So now, whenever you visit those pages, they will auto load with the engine you like best.
Also, it is worth pointing out that Lunascape is extremely fast. For example, it is quicker than Firefox when using the Gecko engine. However, the browser does seem to run quicker with the Webkit engine than anything else, so keep that in mind for your basic browsing needs.
I also really liked the cascade view. This is a view that allows you to open up multiple tabs side-by-side in the same window. You can even have each tab run by a different rendering engine. This way you can see how each page looks different with the different rendering engines.
There are tons of different features we could talk about, but the last one I am going to cover is the add-on support. I know that people like different add-ons for different browsers. Well this program allows you to install different ones. For example, you can install add-ons for both Internet Explorer and Firefox. Not only that, but you can even install add-ons that are made specifically for Lunascape.
CONCLUSION AND DOWNLOAD LINK
There is way too much to cover with Lunascape. The browser is extremely effective and offers more features than any other browser I have ever used. If you are looking for a great portable browser, or maybe you are just sick of your current browser, I recommend giving Lunascape a try. With how good it works, I am shocked that more people don't use it.
Price: Free
Version reviewed: 6.8.2
Supported OS: Windows XP/2003/Vista/Server 2008/7
Download size: 16.46MB
VirusTotal malware scan results: 0/44
Is it portable? Yes
Related Posts