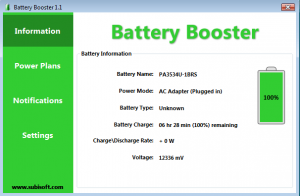 My laptop is starting to show its age. More importantly, my laptop's battery is starting to show its age. In truth, my laptop might as well be a desktop, because it doesn't hold a charge very long. I could go out and buy a new battery, but since I am planning on getting a new computer soon, I just need something to help me extend the life of my battery a bit more. That is where Battery Booster comes in.
WHAT IS IT AND WHAT DOES IT DO
Main Functionality
Battery Booster is a small program that practically runs unnoticed in your background. The whole point of this program is to help minimize energy consumption by turning off services and hardware that you do not need. The program is completely customizable and is extremely easy to use.
Pros
Saves battery life by turning off unnecessary background services
Small and easy to install
Tons of customizable features that you can turn off and on (read the discussion for a more in depth look at these features)
Allows you to change your battery notifications
Easily change your battery's power plan
Gives you information about your battery
Noticed an increase in battery's life
Cons
Many of the features offered to you are possible to achieve without downloading this program. Battery Booster just makes it "easier" to access these features.
I would have liked to see a bigger increase in battery life (although there is only so much a battery boosting program can do — it is limited by physical hardware)
Discussion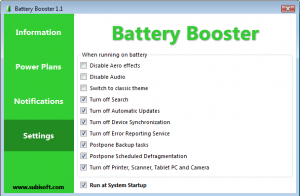 Battery boosters are about a dime a dozen nowadays. On top of that, most of them do the same thing. Battery Booster is not much different than other programs I have used in the past. That being said, it does offer a nice handful of features, as well as an easy-to-use interface, which makes it a great choice for people who are still looking for a Battery Booster.
To better understand the program, you need to know what it does. For the most part, Battery Booster is able to extend your laptop's battery by turning off unnecessary services as the battery gets low. It even goes as far as to turn off certain hardware. Keep in mind, that the things that Battery Booster turns off are completely customizable.
So after installing the program, which is fairly straight forward, you will be greeted with a small window with a few different tabs on the left-hand side. These tabs are "Information," "Power Plan," "Notifications," and "Settings." The info tab gives you stats about your battery, like if it is charging, charge left, battery name and the voltage. The Power tab allows you to adjust your computer's power plan. This tab is not very helpful, as you can easily do that by right clicking on the battery icon on your task bar (assuming you have one there). The notification tab allows you to adjust when your computer warns you about your current battery level.
Now, the most helpful tab is the settings tab. Here you can adjust how the program works to better suit your needs. Some of the features it includes are: Disable Aero effects, Disable Audio, Switch to Classic Theme, Turn off Search, Turn off Automatic Updates, Turn off Device Sync, Turn off Error Reporting, Postpone all Backup Tasks, Postpone scheduled Defragmentation, and turn off Scanners, Printers and Cameras.
Obviously, the more of these services you turn off, the longer your battery is going to last. When I turned on most of them, I did notice an improvement in my battery life. That being said, I would have liked to see a bit more of an increase. I mean, if I am turning off sound while running on my battery, I want the results to be worth it.
CONCLUSION AND DOWNLOAD LINK
Battery Booster is about as good as you get from a battery enhancer. This program will increase your battery life — that increase may just not be worth it for some. However, if you're like me and you have a bad battery to start with, don't expect the results to be too overwhelming.
Price: Free
Version reviewed: 1.1
Supported OS: Windows XP/Vista/7/8
Download size: 324KB
VirusTotal malware scan results: 0/46
Is it portable? No
Related Posts