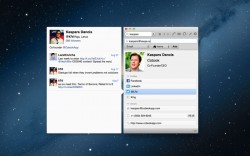 Most people don't have a central location for all the information about their personal and business contacts. They juggle a list of contacts in their email, on Facebook, on LinkedIn, and maybe even in a physical address book. If you are tired of having a messed up, convoluted mess of an address book, maybe it's time to sync your contacts and clean up your act. One option for Mac OS X users is a Mac app called Cobook.
What is it and what does it do
Main Functionality
Cobook lets you sync contact information and rich profiles from Facebook, Twitter, and Xing. In addition, Cobook features easy contact grouping with tags, and has a number of other smart features as well.
Pros
Supports a staggering list of languages, literally too many to list here. It's safe to say that if you speak a language, Cobook has got you covered.
Automatically recognizes the type of info you are adding: Cobook knows what a phone number or email address looks like
Also available for iOS
Compatible all the way back to Snow Leopard: great for users who can't afford to update their software with every Mac OS X upgrade
Minimalist UI
Pulls in contact info from your social networking profiles
Automatic updates and very simple installation process
Easy to access from your menu bar
Cons
Some of Cobook's best features are only available for iOS, not for Mac OS X. These include having most frequently talked to contacts on top, and "choose what you send," a way to share contact info without sharing all of it, in case there is something private in your contact details that you wouldn't want others to see.
Because Cobook pulls in data from social sites automatically, you might not be getting the best contact info in some cases (more on this below)
Discussion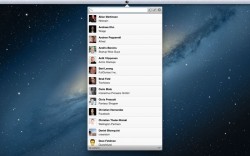 It is really awesome that Cobook syncs with your social accounts and makes changes to your contacts based on the info they have posted on their social networking accounts.
But because Cobook pulls in data from social sites automatically, you might not be getting the best contact info in some cases. I have plenty of friends that use one public-facing email account on their social networking pages, but actually use another email address as their primary inbox.
In short, the effectiveness of Cobook is based on how accurate (or how intentionally removed from social networking) your friends are: if they have intentionally misleading or out-of-date info on their profiles, you could be missing out on prime contacts data.
It is also a major bummer than the iOS app and the Mac app for Cobook don't have the same set of features. Only the iPhone version will keep your frequent contacts "on top," and only the iOS version will let you "choose what you send," when sharing contact info with others. To be fair, the Mac app does have one feature that the iPhone app doesn't: automatically recognition of the type of info you are adding (such as an email or a phone number.)
Conclusion and download link
Cobook is a pretty fresh face on the contacts/address book scene, and it is one to keep an eye on because it has potential. This Mac app has its issues, but between the Mac app and the iPhone app, Cobook offers a robust suite of tools, functions, and info about the people that matter the most to you.
Price: Free
Version reviewed: 1.2.2
Requires OS X 10.6 or later, 64-bit processor
Download size: 3.5 MB
Related Posts