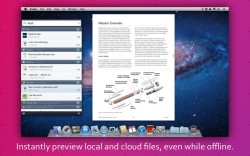 I hate not being able to find something that I know I just saw on my Mac a couple of days ago. It drives me crazy! When a file goes missing, and I can't find it with Spotlight and Finder, I'm usually stumped. I can sometimes find a copy of a file in my Gmail attachments…assuming I can remember the name of the darn file.
Most of us today have files stashed away on our hard drives, in Gmail, in Evernote, and in Dropbox. Thankfully, there is finally a way to cut back on your search time and find your files faster. There is a great Mac app called Found, and it can search across your Mac and all kinds of cloud services to help you find what you need, even under less than ideal conditions.
What is it and what does it do
Main Functionality
Found offers a lightning-fast way to search for files across your Mac and personal cloud services, including Dropbox, Evernote, SkyDrive, Google Drive/Docs, and Gmail (yes, even your attachments).
Pros
Preview local and cloud files, even when you don't have an internet connection
Quickly look up a file or note and glance at its contents without having to dig through Finder and launch an application
Drag and drop any file, even a Gmail attachment, into a new folder or email
Perfect for people who have multiple cloud storage accounts (and supports users who have more than one of the same type of account)
All your logins and passwords are securely stored in encrypted form in your Mac's Keychain
All searches are conducted locally, with no intermediary server involved that could mess things up
Security is ensured by making users opt-in manually to every account and file folder than they want Found to have access to
Search is SUPER fast
Cons
While you can access Gmail attachments, you can't actually search through your Gmail messages. This half-measure of search access may disappoint some users
Found has not yet offered support for cloud services like Box, SugarSync, MediaFire, Mozy or Yousendit
No easy way to quit Found: rather than a single tap in the upper left corner, you have to go into preferences and select "Quit Found"
Discussion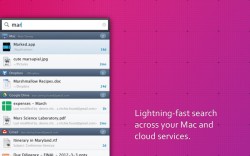 The dual highlights of Found are its speed and its security precautions. The search really is "lightning-fast" as advertised. You won't even be able to type out a full word before the relevant file pops up for you to review.
I love not having to launch Finder, or a new application, or a new browser window in order to grab your file. You can drag and drop any file, even a Gmail attachment, into a new folder or email. Being able to preview those files, even when offline, is a huge boon.
I also like that you don't have to let Found run riot in your digital life. You can control which file folders it has access to on your hard drive, as well as which cloud services you let it play around in. All searches are conducted locally, with no intermediary server involved that could potentially pose a security risk. This app has been thoughtfully constructed.
Conclusion and download link
For most people, Found will offer the perfect blend of access to cloud services and lightning-fast searches. For a relatively new app, there is a lot to like here. Sure, we can nitpick a bit, but overall Found is a highly effective search tool for people who strive to also be highly effective in their daily lives.
Price: Free
Version reviewed: 1.2.5
Requires OS X 10.6.8 or later
Download size: 3.7 MB
Related Posts