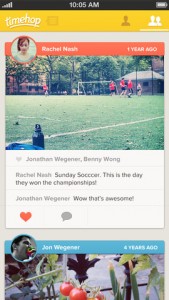 Regular readers may recall that last month, I reviewed a iOS app called HiFutureSelf. The idea was that you could set up reminders to build new habits, or send notes of encouragement to your "future self" for when you know you're gonna have a rough week at the office.
This month, I'm more interested in looking to the past than looking forward. I'm looking at an app called Timehop, and it's all about remembering your personal past, including anniversaries.
What is it and what does it do
Main Functionality
Timehop is a "personal time capsule" of your digital life. Pulling your status updates from social networking sites and images from your Camera Roll, Timehop shows users exactly what they were thinking, seeing, and experiencing exactly one year ago….or even further back!
Pros
Attractive design
Most recent update added Facebook events to your timeline, and also improved sharing via Twitter
Didn't do anything on this date a year ago? The app will offer you USA Today headlines from that day as filler
Now it's easy to remember what you were doing on this day in your personal history, and also easy to share that info/media with others
Cons
While Timehop pulls user date across multiple services (including Facebook, Instagram, Twitter, Foursquare, Instagram, and Flickr), you can only log in with your Facebook credentials. If you're a Facebook hater (and there are more every day), or you just want to streamline your feed, you can't use this app.
User reviews indicate that there has been a pattern of updates that reduce functionality. If you download this app, you might want to wait a few days and gather reports from other users before you get
Discussion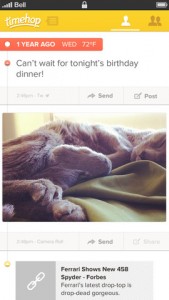 Every day in your life is the anniversary of something. That's the ethos behind Timehop's cool little service, and it's a charming idea. It's really fun to see what you were doing "on this day in history," and it's great that you can get a fuller picture of your activities by pulling in so many services.
I have two big questions. Question 1: Why can you only sign in using Facebook, when you are pulling from all kinds of social networking sites? It's frustrating to users that either disdain Facebook, or simply want to use the app to look at just Instagram or Flickr feeds.
Question 2: If the idea of this app is to have a personal time capsule of your digital past, where are all the outmoded, older, or less used social networks from yesteryear? Where is the functionality for bringing in MySpace updates, or Friendster info?
Conclusion and download link
Those who do no remember the past are doomed to repeat it: if you want to avoid past mistakes or actively celebrate some great personal milestone anniversaries, Timehop is a great little time capsule for your personal history. It can be bittersweet or even embarrassing to use based on how much you've matured in recent years, but Timehop is a great concept that has been well-executed…despite the need for some minor tweaks here and there.
Price: Free
Version reviewed: 1.3.5
Requires iPhone/iPad/iPod Touch, iOS version 5.0 or later
Download size: 10.2 MB
Related Posts