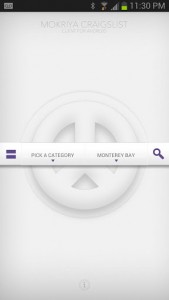 Mokriya Craigslist is without a doubt one of the most exciting and promising Craigslist applications to burst onto the scene. This application will be very appealing for those who love Craigslist, but also hate the underwhelming choices that were typically available in the Google Play Sore. This application is also great for those who actually don't browse Craigslist as often due to the lack of a top-notch mobile interfaces previously available.
What is it and what does it do
Main Functionality
This application is mind-blowingly simple as its single and only function is to provide you with the best Craigslist experience available on a mobile device. As a result, the user interface is incredibly intuitive and completely unique from anything else out on the Google Play Store.
Pros
View full Craigslist ads with high-quality photos
Extensive search filters
Has a free and paid (full) version
Cons
Cannot post in free version — can only view
Cannot set up alerts or favorites in free version
Discussion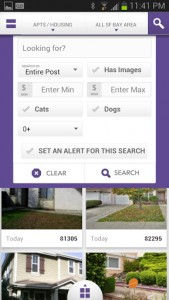 Craigslist applications that provide a pleasant user interface with all of the expected features are pretty hard to come by. Due to the fact that Craigslist doesn't have an official mobile application, developers have been left to their own devices when it comes to achieving a smooth and solid experience. Up until recently, there was really no Craigslist application worth celebrating. This is because none of them ever offered an attractive interface. Mokriya Craigslist changes all that by providing on of the most gorgeous and complete Craigslist experiences available on mobile devices.
As expected, you will be able to view and browse ads with full details and high-quality photos. What makes this application so fantastic is the extensive search filters that you can use.You can search by owner or dealer, you can search in multiple cities at once, and you can search by your GPS location. You can also browse and search by price and images, which will allow you to narrow down long lists of items. You can also search for apartments and personals by relevant information depending on the category.
There is in fact a free version and a full version that will change the features that you will be able to enjoy. If you choose to spring for the full version, you will be able to post ads directly from the application. This includes the ability to take or upload pictures and easily add them to your ads. You will also be able to set up alerts that will notify you when a specific item gets listed in a specific location. This is perhaps the greatest and most desired feature when it comes to mobile Craigslist applications. Along the same lines, the full version will provide you with the ability to add items to your favorites, which makes it fast and easy to return to the exact same page.
Conclusion and download link
It isn't often that one application just comes along and put all of the others to shame. However, this application is without a doubt miles ahead of any other Craigslist application out there. While the application has some quirks to work out and some features to add, it is absolutely headed in the right direction. Consequently, this application is turning out to be quite popular as most people are curious as to what it can do. It also is officially licensed by Craigslist if that means anything to you.
Price: Free, $0.99 (Full)
Version reviewed: 1.2
Requires: Android 4.0 and up
Download size: 3mb
Mokriya Craigslist on Play Store
Related Posts