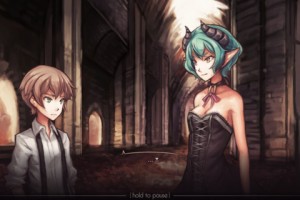 If you love Japanese RPGs, you've probably stumbled across a few visual novels in your time. In case you aren't familiar with the term, a visual novel is a genre of game that is fairly unique to Japan. "Players" often do little more than read dialogue on the screen, and the graphics are usually limited to a few still images of characters making different facial expressions. The characters are often drawn in anime/manga style.
One visual novel that has started to gain traction on the App Store is called Juniper's Knot. Allegedly developed in just under a month's time, this visual novel begins when a young boy finds a blue-haired demon in a silent, abandoned town. Things get progressively creepy from there.
What is it and what does it do
Main Functionality
Juniper's Knot is a visual novel that tells a story through text and pictures.
Pros
Unique story with characters who have dimension and depth
Gorgeous character design paired with elegantly formatted text boxes
The app also contains an extras gallery of in game art and music, as well as some bonus guest art and an additional music track
Absolutely free
Cons
App download is pretty large, given the fact that there are only so many stock character positions and backgrounds
Background music is awesome…but it WILL get stuck in your head all day, which is annoying
Some of the dialogue and internal monologues sound a bit stilted at times (someone actually uses the phrase "Horsefeathers!")
Discussion
Juniper's Knot opens with a mysterious woman standing in a deserted city. She has horns and blue hair: she's what the game refers to as a fiend. As the story unfolds, we learn that this fiend has been draining the life of those around her: that's why the town is so utterly desolate.
Into this tragic town comes a young boy. The two strike up a bit of an odd friendship, and eventually the boy has to make a choice regarding this creature.
The story is very unique, with characters that don't seem like cookie cutter copies of other characters from other stories. The visuals are really beautiful, and they are complemented perfectly in the presentation of the story's text. Dialogue text is augmented with just a slight colorful slash mark above the words, with each color representing who is talking. It's one the most lovely ways of communicating text I've seen in any visual novel title over the years.
The story is engaging, the graphics are great, and the app is free. It's hard to fault the story: even trivial annoyances like stilted dialogue kind of work in the context of the story….though I can't get over the fact that one of the character's yells "Horsefeathers!"
Conclusion and download link
Juniper's Knot is a slow-paced visual tale that engages readers. If you love to read, you will enjoy this tale. But if you're the kind of person who can't stand the cutscenes in video games where you have nothing to do but wade through the story, this free visual novel won't be to your taste at all.
Price: Free
Version reviewed: 1.1
Requires iPhone/iPad/iPod touch, iOS version 5.0 or later
Download size: 150 MB
Juniper's Knot on Apple App Store
Related Posts